Details

Published: Thursday, 20 July 2017 07:43
Written by Susanne Wussow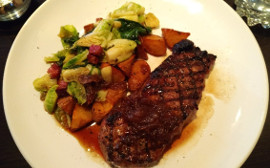 Earl and I don't normally eat out very often (it's such a hardship writing these reviews!), but we had just been on vacation and I suppose we were still in holiday mode. We decided to try Andrew's Roots Restaurant, across from Meaford Hall. I had heard good things about it, and there hadn't been a fine dining restaurant in Meaford since the late, lamented Backstreet Cafe.