Staff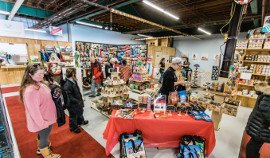 Saturday, February 8, marked the grand opening of Canadian Pet Connection's new Pet Health & Wellness Center.
Being the first of its kind in the Grey Bruce area, this Centre aims to provide health and wellness advice from experts certified in pet nutrition, force-free dog training, positive and gentle pet grooming, professional pet photography, and more. Until recently, the holistic pet health market in Meaford has been underserved.
Canadian Pet Connection has been a family owned and operated business for 30 years, and believes in promoting responsible pet ownership. Their team of pet specialists bring a wealth of knowledge and experience in pet nutrition, behaviour, and healthy pet lifestyles. Visit them Monday to Saturday at 278 Cook street, right beside the factory outlet.