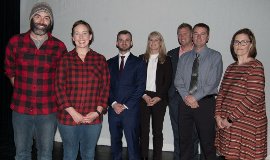 Free Spirit Forest and Nature School claimed the dragon's share of prizes during the Meaford Chamber of Commerce 11th annual Meaford Dragons on Wednesday, October 30.
Kim and Matt Simpson's pitch to expand their not-for-profit outdoor education and experiential programs for children ages 4-12 in Meaford won the support of the five Meaford Dragons and $6,500 in prizes over four other small businesses: Pampered Paw Spa, PostingsK9, Silk Family Homestead, and Back Forty Glamping.
Free Sprit Forest and Nature School also won the hearts of the near-capacity audience that voted it Audience's Choice and winner of the Rotary Club of Meaford $500 award.
A total of $16,150 in cash and in-kind services was at stake for the contestants who made pitches to five judges for help to finance their plans to expand or purchase equipment. Requests for help ranged from $3,000 to $10,000. Kim and Matt Simpson appealed to the judges' commitment to the youth of the community as the "future caretakers of the world."
Free Spirit Forest and Nature School offers a variety of programs in Collingwood, Wasaga Beach, and Meaford, from core programs one day a week to programs during March Break, on school professional activity (PA) days, and after school. The nature school is Southern Georgian Bay's only not-for-profit, Forest School Canada-certified program.It offers nature programming by certified Ontario College of Teachers (OCT) Outdoor Educators, Early Childhood Educators (ECE), and Forest School Practitioners for ages 4-12 and focuses on nature-based adventure, outdoor skills, and free-play.
"We have a great relationship with the schools," said Kim. "We find that children who leave the classroom to participate in the nature school's one-day-a-week program increase their confidence, self-esteem and motivation to learn and go back to the classroom more ready to learn."
Kim and Matt pitched a request for funds to expand the Meaford program, purchase equipment, promote the program through advertising, and offer free tuition for their cedars and saplings program for 1 1/2- to 3-year olds and their parents.
Second-place winner was Pampered Paw Spa. Owner Rebekah Chapman won $3,300 in cash and prizes to help renovate and equip her pet care business with hydraulic beds and a holding pen. Rebekah's business plan is to invest money to streamline and make her space more efficient and to raise the standard of care…so that Meaford pet owners "know there is a spot where their pets will receive comfortable and secure care," she said.
A panel of five Meaford Dragons reviewed the contestants proposals, met with them during a champagne reception at Craig's Gallery prior to the event, and heard their pitches on stage at Meaford Hall, Judge Marie-Catherine Marsot is the CEO of Fauxmagerie Ltd and Meaford Dragons winner in 2017. Darryl Hindle is the Chief Hydration Officer at Quench Buggy, two-time Meaford Dragons contestant and a winner of the Audience Choice Award. New to the
Meaford Dragons were Judges Nancy Sharma, Branch Manager of Brokerlink Insurance; Steve Bosman, part owner of MSW Plastics; and Daryl Johnson, owner of Amici Restaurant and Pizzeria.
Not all of the contestants received part or any of the financial help they requested They did, however, go away with offers from the judges to help them in one way or another – with consultive services, social media networking, and personal offers to do business with them.
Meaford businesspeople support one another, according to Judge Nancy Sharma. "Businesspeople have a lot of connections that could make or break a new business," she said, "and help them reach a much bigger potential."
Putting the 'me' back in 'Meaford'
The contestants were called on to calm their nerves and pitch their proposals with confidence and passion. Comedian, actor, writer Andrew Chapman did his part to ease the tension of the hour with his friendly pokes at small-town life, mannerisms, and attire. "I have been here for only 24 hours and I have already seen everything," he said. "I am beginning to love Meaford. It's time to put the me back in Meaford."
Andrew is known for is performance in the Duchess of Cancun, Murdoch Mysteries, and Extreme Babysitting.
Emcee for the evening was DJ Moffat, Network Sales/Digital Promotions Director for My Broadcasting Corporation.
For full details re event sponsors, judges, contestants, prizes, and event host, the Meaford Chamber of Commerce, go to https://meafordchamber.ca
Photo:
Meaford Dragons awarded a total of $6,500 in cash and in-kind services to Matt and Kim Simpson, founders of the not-for-profit Free Spirit Forest and Nature School to expand their Meaford programs. L-R: Matt and Kim Simpson, and judges Daryl Johnson, Marie-Catherine Mascot, Steve Bosman, Darryl Hindle, and Nancy Sharma.