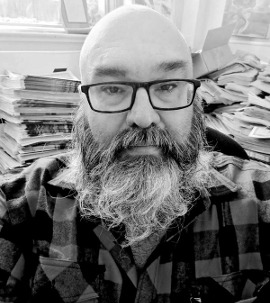 Many in this community were saddened upon hearing the news back in November that the Scarecrow Invasion & Family Festival was put on pause for this year due to a lack of members on the event's executive board. On Monday afternoon we learned that the 2023 edition of the event has been saved, and we will indeed have an invasion in autumn.
"The 2023 Scarecrow Invasion is back. Due to public outcry and individuals stepping up to assume key roles on the Executive and its committees, the Invasion can start planning for 2023," organizers proudly announced in a media release issued on Monday afternoon.
The media release also indicated that the 2023 edition of the Scarecrow Invasion will look a little different as the new executive board strives to make the event more environmentally friendly.
"There may be fewer scarecrows to reduce waste going to the landfill; more opportunities for businesses and residents to build, participate and compete in a 'green' scarecrow competition; or other activities to encourage an environmentally friendly and sustainable event," advised organizers.
In September of last year I received some heat from some residents after I penned an editorial in which I suggested that our beloved Scarecrow Invasion "could be a whole lot greener".
"Before I begin, I want to make it clear that I fully enjoy the Scarecrow Invasion & Family Festival, and I have for all of the 17 years that I have lived in this municipality. Sometimes, however, we must get real even about things that we love, and our beloved Scarecrow Invasion is an environmental embarrassment for a municipality that, on paper at least, places an emphasis on environmental responsibility," I wrote in our September 15 paper. "There just has to be a better way than sending 300 scarecrows to the landfill each year. Three hundred scarecrows that are constructed of various materials from wood to garden hoses to plastic bags and newspapers, all encased in old clothing, that after a month exposed to the autumn elements are soggy, and covered in everything from bird and mice droppings, to mold, making them unsafe for a group of volunteers to pull apart, separate the components, and dispose of responsibly, so safety must come first and as a result, off to the landfill they go."
Some on social media insisted that I was just plain wrong, while others agreed, though they thought I had been too harsh in that editorial. But the reality is that there is opportunity for improvement from an environmental perspective for this event, and the new slate of executive board members appear to have not only acknowledged that reality, they are acting on it, and that is something that should be applauded.
"As part of our plans to be greener, a special committee headed by Christine Pompeo will look
at all options and help us determine the best way forward," this week's media release from the event organizers informed.
It is not easy for any organization to acknowledge areas in need of improvement. We humans are seemingly built to avoid uncomfortable realities, but we also love a challenge, and the new executive board for the Scarecrow Invasion & Family Festival has signalled that they are up for the challenge of making the popular event more environmentally friendly.
"It is because I love the Scarecrow Invasion that I would like to see it step into more modern times by considering the impact of the event on the environment," I wrote in September. "I think creative minds could find solutions that might change the look of the month-long displays slightly, while maintaining the charm, whimsy, and explosion of colour that it provides us each year. Perhaps instead of hanging scarecrows from light standards, those could be replaced with flags as are used for many other events held in this municipality. The flags could be colourful and fun, and they could be reused year after year, and a hefty chunk of those 300 scarecrows would not be needed."
With a full executive board with a new focus on greening the event, I am certain that many creative and fun solutions will be found for the coming years of what has become perhaps the most popular event in this municipality with both residents and tourists alike.
I am certain that I am not alone in being thrilled that enough folks have stepped up in order to allow this year's Scarecrow Invasion to take place; you can never discount the power of small town community spirit.
The Scarecrow Invasion is not just beloved by us residents of the Municipality of Meaford. Each year folks from across the province plan a weekend drive to Meaford in the autumn in order to take in the scarecrow displays. Many a visitor has snapped a photo of the family beside a clan of scarecrows, and their positive experiences in this municipality, from our friendly business owners to our clean parks and beautiful waterfront, bring those visitors back to Meaford year after year. It is an event that engages and entertains the community while at the same time helps bring tourists to this community to enjoy the displays and spend their dollars at our shops and restaurants.
I look forward to seeing the solutions that this new executive board will come up with in order to help make a popular and much loved annual event friendlier to the environment, with less trash destined for the landfill, while maintaining the spirit and fun that draws us to the event year after year.
Best of luck to the new executive board, and thanks to all who stepped up to offer their time and energy in order to save this event, your efforts will certainly be appreciated by all who love and enjoy this popular autumn event.