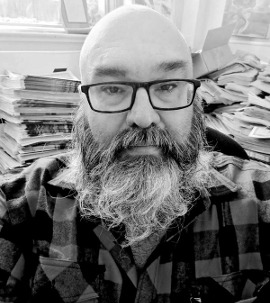 In the wake of a major structure fire on Thursday evening that saw a local auto repair shop destroyed, and caused concern for the potential for contamination of our municipal water system, this community, from first responders, to municipal staff, to local business owners and residents have responded in a fabulous way.
Meaford's fire department, along with neighbouring departments that provided assistance, should be applauded for getting that fire under control quickly. I have long respected those willing to do the important jobs that most of us are either incapable of, or have no interest in taking on the risk, and firefighters certainly fall into that category.
A structure fire at a family home is much different than a structure fire at an automobile repair shop where oils, greases, and fuels are everywhere, along with tires and a host of other items that when burned release potentially dangerous toxins. This municipality was quick to consider the potential for some of those toxins to make their way into our water system, so they wisely jumped into action, and at 10:24 p.m. on Thursday night I received an email from municipal staff informing that Meaford's emergency control group had been activated, just hours after the fire had been contained.
That late Thursday night email from the municipality was the first of what would be many to come as each new step was taken. The next email from municipal staff was received at nearly two o'clock in the morning, advising residents to avoid consuming municipal water out of an abundance of caution, until it could be determined if there had been any infiltration of our water system after the fire. The following morning it was announced that a water distribution centre had been established, allowing residents to pick up bottled or bulk water at no cost.
In less than 24 hours after the fire had started, this municipality had activated its emergency control group, issued a warning about water use, had arranged for a water distribution centre to be set up, then had sent water samples for specialized testing. Let's be clear – there is likely no contamination of our water system at all, but with water we don't nor should we mess around, and the cautious approach taken by the municipality is wise from my perspective.
At the time of my writing this column, we are still awaiting water sample test results, which will no doubt guide the next steps.
I don't think we could have asked for more from our local government in this situation. They took it seriously, they deployed resources, and they communicated with the public every step of the way.
I did see some concern expressed online that people not on social media would not receive the news of what was happening, though I would push back on that notion just a tad. There is still an impression that 'old people' are not online, they are not on social media, and so they get left out of the loop.
First, I would note that number of people who do not have access to a computer, tablet, or smart phone in order to access websites or social media platforms is small, and getting smaller each year, but we must keep that small number of folks in mind during any emergency.
An 80-year-old today was in their 40s when computers became common in the workplace, and in their 50s when home computers and access to the world wide web became popular. A few short years later, most everyone had access to mobile phones.
According to Statistics Canada, the vast majority of Canadians have household internet access, 94 percent in fact. As of 2020, 83 percent of Canadians over the age of 65 had household internet.
So though we do have many elderly folks in our community, most are connected to the rest of the world through their tablets and computers, or smart phones, and we've all seen many a proud grandma proudly posting photos on social media.
That said, social media alone cannot be counted upon to get the word out to the community when faced with an emergency. Thankfully, seniors love their radios, and the local radio stations provided regular updates from the outset, so the number of folks who were unaware of the situation was most certainly quite small, and the vast majority of that small group would have been informed by the trusty old system of word of mouth.
The response from first responders and our municipality aside, this community has responded exactly the way one would imagined it would: with love and support.
Expressions of appreciation for Johnny B's auto repair shop flooded social media in the wake of the fire, offers of assistance abounded, and some folks started collecting funds to help. A sign on the property promises that the business will rebuild, and that there will be a temporary location established, and I hope that happens. Like many, I have been a customer of Johnny B's for many years, in fact for most of the nearly 20 years that I have lived in Meaford, and they have always treated me well. I look forward to their return to doing what they do best.
I applaud this community for its response during this situation from the first responders to the mayor, who had little sleep over the weekend as he was busy in the council chamber which had been used for the emergency control group to meet and manage this emergency, to residents and local business owners who have offered to help in any way that they can.