Recently, municipal staff made the decision to disallow off-leash dogs at the dedicated dog beach located within Memorial Park for the 2021 season. There was no official announcement made; rather, a local member of our community stumbled across this information on the municipal website while looking for other information about Memorial Park. It is unclear as to when the new rule was posted.
The area of Memorial Park designated as an off-leash dog beach is outlined in Municipal Bylaw 052-2013, and can be seen below.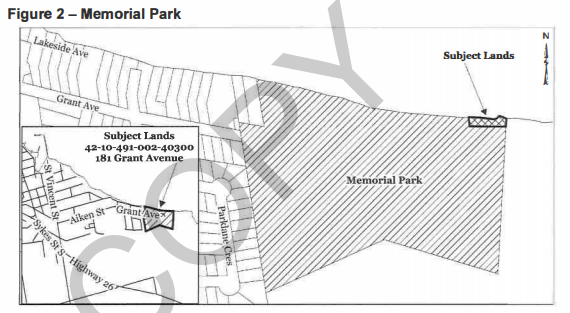 Municipal staff can only temporarily change a bylaw in the case of an emergency, such as a road washing out. Otherwise, the official decision to amend a bylaw must be made by Council. Members of Council will be making a decision on April 12 about whether or not to put this rule into law.
To be clear, under the proposed changes, the dog beach at Memorial Park will stay open, however all dogs must remain on-leash while in the water. In fact, dogs are permitted to swim at all public beaches in the Municipality of Meaford as long as they remain on leash. In theory, this may seem like a plausible rule, considering long leashes can reach lengths of up to 100 feet. However, in reality this can be a logistical nightmare for dog owners for many reasons, including leashes tangling and snagging, creating significant safety hazards.
This area takes up approximately 50 meters of waterfront, to the far east of the Memorial beach. It represents roughly 10% of the total length of the beach. Due to current erosion and water levels, approximately 60-65% of the beach is accessible, meaning the designated dog beach area takes up approximately 30% of the currently accessible beach front.
Meaford Is A Pet Loving Community
Meaford is a proud pet-friendly community, and is the only town in Canada to hold the prestigious BETTER CITIES FOR PETS™ pet-friendly certification.
It's also important to note that:
The Beautiful Joe Heritage Society has been advertising Meaford as a pet-friendly tourist destination in print and digital media for years, effectively attracting dog-loving tourists from all over the globe.

Beautiful Joe Park honours Margaret Marshall Saunders' classic novel

Beautiful Joe

; a culturally significant piece of literature widely famed for pushing the animal rights movement in Canada.

Canadian Pet Connection's annual Pet Expo brought in thousands of tourists in 2018 and 2019, and is expected to grow considerably once COVID-19 restrictions are lifted.

The Municipality of Meaford's website states, "P

ets are often considered a member of your family. The municipality is proud to be a pet friendly community."

Campers and day-tourists alike flock to Memorial Park from spring through fall specifically for the off-leash dog beach, an amenity not found in many parts of Ontario.

The pet industry is a strong and rapidly growing part of our local economy. Meaford's Grey Bruce Pet Professionals Group includes over 60 pet-related business owners and rescue organizations.

For having such a large network of trails and beaches, there is almost nowhere in Meaford for off-leash dogs.

Dozens of beachgoers have reported their enjoyment watching the dogs play in the water, despite not being dog owners themselves.

Every year, hundreds of campers choose Memorial Park because of the canine-friendly amenities.

A survey by AMP (Advocates for Memorial Park) in 2019 had 564 respondents. Of them, over 219 (39%) responded they regularly use the dog beach, which is a significant amount of usage.
Alternative Off-Leash Spaces
It is important to note that all of Memorial Park is designated as 'off-leash' during the winter months, until April 15 each year. Once that date is upon us, dog owners will lose all off-leash privileges in Memorial Park trails as well as the dog beach if the proposed change is approved.
Meaford bylaws require dogs to be leashed on trails and parks, leaving the Beautiful Joe Leash Free Dog Park on Aiken Street as the only public off-leash space in the Municipality. While this can be a great space for some dogs, many would argue it is on the small side, and becomes easily cramped during busy times. Additionally, this space lacks adequate shade or water spaces for dogs to cool down during the hottest summer days. Perhaps the municipality could invest in a wading pool or splash pad at this location, as well as a sun shelter?
Paid services, such as canine group hikes, dog walking, or doggy daycare can be an excellent outlet for high-energy canines. However, these services are not financially feasible as long-term options for all dog owners in Meaford.
Is This A Temporary Measure?
The decision to disallow off-leash dogs at the Memorial Park dog beach is a temporary measure being proposed due to erosion along the waterfront. This proposal is intended to increase beach space for humans while higher water levels are creating accessibility issues throughout parts of the Memorial Park beach.
During the 2020 season, while experiencing the same erosion issues, beach goers were moving closer to the off-leash portion of Memorial Park. As a result, a few complaints were received regarding swimming in proximity to canines; some individuals simply don't want to swim near dogs, while others expressed safety concerns for young children sharing a space with unfamiliar dogs.
With water levels not expected to level out for at least five years, based on current projections, the off-leash privileges at the dog beach are at risk of being lost forever.
This is one amenity Meaford dog owners simply don't want to lose.
Alternative Options
Municipal changes to public amenities should require public consultation to make well-informed decisions. There should always be an opportunity to implement a balanced and logical solution that works for everyone.
Some community members have suggested alternative locations for a dog beach, however this would require significant public consultation before creating a new bylaw. The question of where this new dog beach could be located has been debated more than once, and always comes to the same conclusions: other beaches in the municipality are smaller, not as accessible, and would not be as popular for tourists and campers.
Another proposed suggestion is to set designated off-leash swim times throughout the day, clearly posted, so dog owners will still have the opportunity to take their pups for a swim. This would also allow beach goers the chance to avoid the beach during off-leash times.
A third suggestion calls for fencing off the leash-free section, limiting opportunities for canines and humans to have unwanted interactions.
Next Steps
A survey-style petition will be available shortly, where you can have your say. Results of this survey will be brought before Council on April 12 for consideration. You can also express your opinion on this matter to Council directly by emailing council@meaford.ca.
Brandon Forder, known as The Pet Expert, is vice-president of Canadian Pet Connection, an industry leader in healthy pet lifestyles. Brandon is certified in pet nutrition, and has more than twenty-five years' experience specializing in pet health and behaviour. He has written hundreds of informative pet-related articles for newspapers, magazines, radio, and the popular Ask the Pet Expert Blog. Brandon is highly skilled in pet problem solving, and enjoys teaching others about smart and responsible pet ownership. To learn more, visit www.CanadianPetConnection.ca.