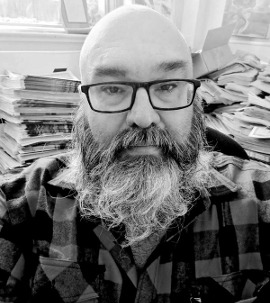 After an unseasonably warm start to autumn, frigid season-appropriate air moved in over the weekend, reminding us that summer is indeed over, and winter is on the way.
The chilly temperatures over the Thanksgiving long weekend was cause for many of us to turn on our home heating for the first time since last winter came to an end. Cranking up the heat for the first time in six months reminded me that it is likely a good time to start preparing for the winter to come.
After turning on the heat for the first time on Sunday, I checked that my flashlight batteries were charged, and my oil lamps were filled and the wicks trimmed, just in case the winds became stronger, which could lead to a power outage; better safe than sorry, my grandfather used to say.
That simple need to turn on some heat for the first time this season led me to the realization that it might be a good time to start preparing for winter, so I did what I typically do, I started making a list of things to get done before the first snowflakes start falling from the sky.
If I have learned anything in my more than half century on this beautiful blue ball, it is that procrastination is easy, but also anxiety inducing, while getting a head start, and getting organized in advance can save that anxiety.
It is never to early to start preparing for the winter months, I have watched the neighbourhood squirrels and chipmunks preparing for winter for the past few weeks now. So I followed their lead, and I rounded up my toques, scarves, and gloves, and realized that the warmest of my gloves are a little long in the tooth, and they have a hole or two. So I started a second list, a list of things I need to pick up in the weeks to come. I dusted off my winter boots, and dug my cold weather jackets out of the closet.
If you have young children, you have the added task of rounding up all of the winter gear, and assessing what still fits who, and what needs to be purchased before the icy winds begin to blow.
Since I was in winter preparation mode, I wiped down all of the baseboard heaters, and I hauled out my warm blankets to help ward off the autumn, and soon to be winter, chill.
If you are a motorist, there are a number of things to get done before winter weather makes a mess of our roads and is cause for some white-knuckle drives.
Auto repair and tire shops can get extremely busy in November and December, or earlier if there is a significant snowfall, making it a challenge to get your car in for that pre-winter tune-up, or to have snow tires installed. Making an appointment in October can help you to beat the last minute rush, and perhaps more importantly, the first snowfall.
Snow tires are a worthwhile investment in our neck of the woods, as they can make a huge difference to the winter driving experience. Losing control of your vehicle on an icy surface can be a frightening experience, and one that can be largely avoided with some quality snow tires installed on the steel chariot. Snow tires can't work magic however, and it is perhaps even more important that we remember to adjust our driving to the weather, and when snow is on the roads it is wise to slow down, and maintain some additional space between yourself and the vehicles ahead.
It is also time to ensure that you have a snow brush and ice scraper in your vehicle. Each year in my 3Rs…Rants, Raves & Rumours column in our print paper, I write about my winter pet peeve: folks that don't properly brush the snow from their vehicles, some only clearing the windows in order to see, while leaving a thick layer of snow on the roof, hood, and trunk of their vehicle. Snow that can and does fly off, sometimes in icy chunks, only to land on the windshield of the car behind. Those who don't properly clear the snow and ice from their vehicles are creating a danger for other motorists, and that is just not responsible. So have a good brush in the car, one that can telescope to a length that will make it easy to reach all areas of your vehicle, and don't be that motorist with a pile of snow on their vehicle, ready to dislodge and slam into the car behind.
Additionally, many will be busy in the coming weeks sealing windows in their homes, digging snow shovels out of the shed, and ensuring their homes are ready for the snow, ice, and chilly air that is to come.
The middle of October might seem early to be advising folks to start getting ready for winter, as we don't generally see the first snowfall until some time in November, however my friends up in North Bay had their first snowfall over the Thanksgiving weekend, so it really can't ever be too early to start planning for and preparing for Old Man Winter to come marching in.