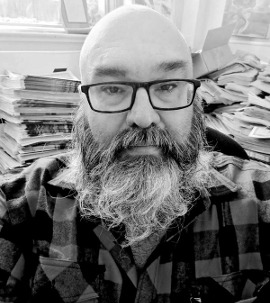 We are just 11 days from the end of winter and the beginning of spring. Not that we'll necessarily notice a difference, as this strange winter has felt much like a harsh spring for much of the time, but spring is indeed nearly here.
As spring arrived a year ago I was thankful that nearly all of the restrictions we had been living under due to the pandemic had been lifted, allowing us to get on with out lives after two years of angst and uncertainty.
With spring within reach, I have been dreaming of early mornings tromping along riverbanks, tossing a line into the water in hopes of hooking onto a nice trout. My calendar tells me that trout season is just seven weeks away, so in the coming weeks I will be checking on my rods and reels, doing some cleaning and maintenance, and ensuring that I am ready for opening weekend.
A cyclist friend of mine was recently expressing excitement for the arrival of spring as they have invested in some new wheels and are anxious to get out onto our rural roads for some lengthy bike rides. Another friend, a golfer, has grown tired of practising their putting indoors, and is eager to get out onto a golf course to chase that little white ball around for an afternoon.
Several of my friends are gardeners, and they have been busy over the winter months with their noses buried in seed catalogues, and making to-do lists for the coming growing season.
Whatever you are looking forward to with the arrival of spring, and the summer months that follow, I suspect that you too are anxious for the beginning of the warmer months.
In addition to the things that I am personally looking forward to, spring is also a good time to leave some things behind. For me the arrival of spring means the end of municipal budget season, my least favourite season of the year.
By the time we are barely a week into the spring season, council will have voted to approve the 2023 municipal budgets, and that allows council to adjust their focus onto the plethora of issues that face them. While the wonderful spring season will have arrived, for our council there is much work to be done before their traditional August break. Topping the list of council concerns will be the increasing numbers of development proposals that are certain to attract a crowd or two at council meetings. And of course the pumped storage proposal that has raised the ire of many in this municipality will continue to occupy council's time as the proposal continues its journey through the various stages including, and perhaps most importantly, the environmental impact studies, which should help all of us to better understand what impact the proposed facility could have on our local environment and wildlife, and what if any mitigating measures should be undertaken should the project be allowed to move forward.
Sadly, one thing we won't see this spring season, nor in the summer months to follow, will be the throngs of scarecrow volunteers meeting at the Rotary Pavilion to begin the process of building some 250 scarecrows in preparation for the popular autumn festival, the Scarecrow Invasion. One of the things that has always amazed me about the Scarecrow Invasion is the enormous amount of planning and hard work done by the large team of volunteers before the big event. But this year those volunteers will have some extra time on their hands, with the event having been put on pause for 2023 due to a lack of members on its executive board. Many, including me, are hopeful for a return of the event, which draws thousands each year to our downtown and harbour area for the festival. Next year however, in order for that to happen, those empty seats on the Scarecrow Invasion executive board will need to be filled.
While the Scarecrow volunteers might not be busy building scarecrows this spring, there is still plenty to look forward to as spring progresses and transitions into summer. It will soon be time for the community-wide cleanup, which draws dozens of volunteers, bright green trash bags in hand, to scour our streets, sidewalks, and parks picking up trash, and making this municipality presentable for the coming tourist season.
Another event that many look forward to each year is the Canada Day celebrations. Canada Day events offer all of us the opportunity to gather with friends and neighbours and to celebrate the many advantages we enjoy simply by calling this country home. And though it occurs a couple of weeks after summer technically begins, the Canada Day long weekend for many is the unofficial beginning of the summer months.
So, spring is in the air, and though we all can find ourselves burdened by the realities of life in 2023, and we can be frustrated or even fearful of the events taking place around the globe, as the spring season begins we can set those fears and frustrations aside, and simply enjoy the small things, like the sound of birds chirping, the sight of leaves returning to barren trees, or simply hearing the neighbour's lawnmower fire up for the first time since October.
We are almost done with winter, and whatever your plans are for the spring season and beyond, I wish everyone the best, and I hope that the season brings fun, and joy to all – we deserve it!