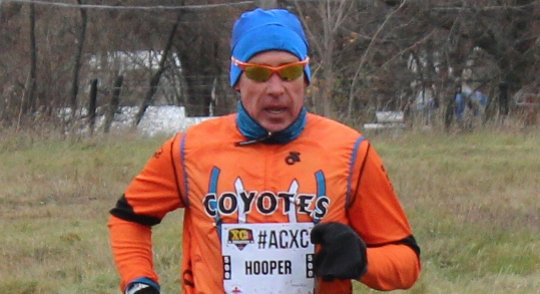 Meaford Coyotes Track Club head coach Kevin Hooper and Grade 11 Port Elgin student Sam Nusselder ventured to Kingston on Saturday, November 28 for the Canadian Cross Country Championships.
The national event was hosted at the beautiful Fort Henry Historic site overlooking the water and downtown Kingston. The weather had cleared Saturday morning after two days of heavy rain over the grassy, undulating, and twisting course. The course made for a true Canadian cross country experience with light winds making the 0'C temperatures drop to about -6'C.
Sam Nusselder began the day competing in the Youth Boys 6km race. Each of the 3x2km loops had long straight-aways with three sharp and slippery hairpin turns throughout the course, and a slippery 100m hill approaching the finish line. Nusselder had a strong race with a good start and a consistent pace through each of the three laps. Being the youngest in the two-year age group and his first Canadian XC experience, the Coyotes were not quite sure what to expect for this competition, but were hoping for a top 40 placing. Sam crossed the line in 95th spot of 182 competitors with a time of 21:42 minutes - a good time for him considering the conditions.
Coach Hooper stepped up to the line in the Masters 8km race against 165 competitors in the 30+ age group with both men and women competing together. The Masters raced the same 2km-looped course and making four trips around. This was Hooper's first Master National XC race in eight years and his goal was to be close to the 32:00 barrier. He also ran relatively consistent times on each loop and stopped the clock in 32:19. He placed 68th overall and 15th of 22 in the Male 50-54 age group.
Both Hooper and Nusselder were pleased with their performances and learned a lot about what they need to work on over the next several months as they both expect to compete at this event again next year. Kingston will be hosting the National XC event for the next three years on the same course.
"It was exciting to watch the amazing talent this country has developed for its distance runners and how fast these kids actually run. It definitely sets a very high bar for our young Coyotes to chase after as we develop our young runners who will be competing in this event in the next few years. With a lot of hard work and huge commitment, hopefully we can develop more national champions to follow in the footsteps on last year's National Junior Champion, Hannah Woodhouse," said Hooper.
The Coyotes now transition into their winter program. They will be braving the outdoor elements with their training programs and will be competing in several indoor track meets beginning in mid-January. For more information about the Coyotes or if you are interested in joining the team, please check out their website at www.meafordcoyotes.com.