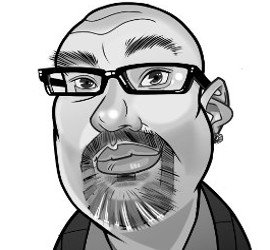 A proposed mixed residential development on the property of the former Knights flooring factory on Boucher Street has many residents concerned. The proposed development would see more than 200 residential units, from townhouses to two five-storey apartment buildings, along with a 90 room, five-storey hotel packed onto the property, which is surrounded by quiet, long-established residential streets of mostly one- and two-storey detached residential homes.
The concerns expressed by residents are many and they cover a wide range, from the three five-storey structures proposed for the site, to a significant increase in traffic, to environmental and waterfront access considerations. Many have even expressed a disdain for the aesthetics of the buildings included in the concept drawings; apparently red brick is out of fashion.
I don't personally have an issue with the concept design itself, nor am I personally bothered by taller buildings. In fact, I am often bothered by the amount of control we collectively feel we should have over the aesthetics of private developments. Not that a community should have no input or controls, but I often feel that we expect too much control.
That said, though I might not share some of the aesthetic or building height concerns that are genuine and valid issues for many, there are other serious issues with the SkyDev proposal, not the least of which is the sheer amount of traffic that would invade long-established, quiet residential streets that lead to the property.
As one resident noted, with several hundred individuals residing in all of those homes, if even just a third of them leave for work each morning, that would be hundreds of cars passing by the homes of immediate and current neighbouring properties compressed into a short period of time. Add in the proposed 90-room hotel, and summer traffic on those neighbouring streets will be even more of a nightmare.
Many of us moved to Meaford to escape traffic jams on major roads, not to see them created in quiet residential neighbourhoods.
It might be different if there were a major road accessing the property, but there isn't – all roads leading to the site are traditional small town residential streets, not designed, nor intended for mass morning commutes of hundreds of vehicles.
I'm no architect or engineer, and I don't pretend to be, but the plans as presented by SkyDev seem to be a serious over-development of the property. I liken the plans to the comfort experienced on the modern commercial airline; not the roomy experience of a few decades ago, but rather cramped, stuffy, and uncomfortable so that every possible penny of revenue can be generated.
I understand and appreciate that developers need to earn a profit, but surely a profit could still be made with a much smaller footprint, and a lower density.
I am all for increasing density in order to avoid sprawl, but there are many ways to increase density without overwhelming existing neighbourhoods. The concept drawings presented remind me of some of the neighbourhoods in which I lived as a child in Toronto and the greater Toronto area. In fact, if this proposal was plunked into one of my childhood neighbourhoods in North York, or Scarborough, or even Newmarket or Barrie, it would fit right in, and I suspect there would be few complaints.
Small towns are a different animal, and though it is widely recognized that increasing neighbourhood densities is a priority for governments at all levels, and for good reason, going from one extreme to another feels like too large of a swing of the pendulum. If you wanted to turn small-town dwellers against the notion of increased densities, a concept such as has been presented would likely do the trick.
The most successful change is incremental change, and this would be anything but.
As mentioned, I will leave the debate over aesthetics to others, but the 38 residents who offered their comments during the virtual meeting, and the 125 that have thus far submitted written commentary aren't wrong when it comes to the negative impacts such a huge development would have on the quiet residential streets that provide access to the site.
If the proposal was for a mix of detached homes and townhouses, I suspect many fears would be quashed. If the proposal was for a three-storey hotel along with some residential townhomes, I think many would be on board. What SkyDev is proposing however is a five-storey 90 room hotel, along with two more five-storey apartment buildings with 60 apartments in each, as well as nearly a hundred townhouses – not exactly right-sized for the six acre pie-shaped property.
Meaford needs new development, there is no question about that, and development is on the way, there is no denying that either, but we need to ensure that new development fits with existing neighbourhoods. We need to ensure that new development doesn't negatively impact the ability of current neighbouring property owners to continue to enjoy their homes and their neighbourhoods.
I hope that SkyDev was listening during Monday night's lengthy meeting. I hope they pay attention to what the residents shared. I didn't hear a single voice against development generally, nor did I hear opposition to developing this particular property. What I heard was Meaford residents demanding smart development, and right-sized development, so it will be interesting to see how the input provided by residents might shape a redesign of the proposed plans.