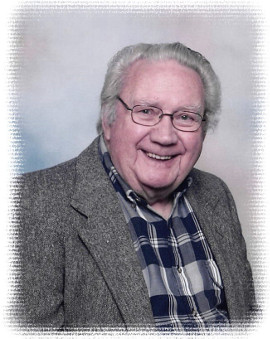 Hans Young of Meaford, ON, passed away at Errinrung Long Term Care Centre in Thornbury on Friday, January 7, 2022, at the age of 94.
Born in Westerland, Sylt, Germany, Hans 'Junge' Young was the son of Hans Herman and Alwina (nee David) Young.
Emigrating to Canada when he was just three years old, he lived in Noranda, QC, until he moved to St. Catharines, ON, where he spent the next 50 years. He was a printer for all of those years and, except for a few months, worked for Adie-Lincoln which became Lincoln Graphics. He was also a long-term adherent of Bethany Community Church (Evangelical Missionary), St. Catharines, and part of numerous couples and men's small groups. Later he attended Pugwash Baptist, Pugwash N.S., and First Baptist, Meaford, ON.
Hans was predeceased by his beloved wife Reta May Young (nee Hall) in 1998.
He is survived by his son David Young (Elaine) of Meaford, ON, and his daughter Lori St. Jean (Steve) of Sault Saint Marie, ON. He was the proud grandfather of six grandchildren and nine great-grandchildren.
A small private graveside service of committal and interment will take place later at Mount Zion Sands Cemetery, near Bruce Mines, ON.
As your expression of sympathy, donations to the First Baptist Church (cheques only please), or the Alzheimer's Association of Canada would be appreciated and may be made through the Ferguson Funeral Home, 48 Boucher St. E., Meaford, ON, N4L 1B9, to whom arrangements have been entrusted. www.fergusonfuneralhomes.ca