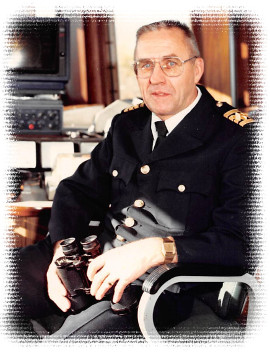 Captain Bruce Shepperd passed away peacefully at Brightshores Health System 'Meaford Hospital' on Tuesday, October 24, at the age of 95.
Born in Toronto on October 26, 1927, Bruce was a son of the late Arthur and Violet (nee Ferguson) Shepperd.
He was predeceased by his beloved wife Lucille Shepperd (nee Juniper) and his son Bradly Shepperd.
Bruce was the dear father of Brian Shepperd (Vicki), Susan O'Hara (Dennis), and Scott Shepperd (Samantha).
He was the proud grandfather of Terry, Colleen, Todd (Lori), Sherry, Brian, Bobbi Sue (Mike), Tyler, Jacob and Mark, and great-grandfather of Zachary, Mackenzie, Taylor, Aleksandria, Natalya, Liam, Josiah, Taylor, Abigail, Kade, James, Maddox, Isabella, Maria, Michelle, Doyle, Tyler, Scott, Parker, Rhyder, Hunter, Hailey, Luka, Anthony, Lillian, Brooklynne, and Dayton. Bruce was predeceased by his great-granddaughter Caelyn.
Bruce was predeceased by his siblings Aileen, Jim, Ronald, Jean, Don, Helen, and Frank, and will be remembered fondly by his sister-in-law Marie Shepperd, brother-in-law Al Juniper (Verna), and by his many nieces, nephews, and their families.
Captain Bruce Shepperd sailed on the Great Lakes for over 40 years. He started working on ships at age 13, shovelling coal into the boilers for the engines on a steam ship. He worked his way up through the ranks of Algoma Central Railway, Marine Division, to become the Commodore of the fleet. Bruce took all the new ships out of the Collingwood Shipyards for Algoma.
Bruce proudly volunteered for many years working around the harbour and within the Town of Meaford. With many friends in the Canadian Coast Guard, he acquired the Coast Guard Cutter that now sits at the Meaford Harbour. Bruce was pleased to be able to donate the ship artifacts around the coast guard cutter. His home is a tribute to his years on the lakes. Every year something would show up for his lawn display, much to Lucille's dismay! Bruce renovated and built all the cabinets in the museum. He was an accomplished woodworker, building displays for Christmas and Halloween to put on display at home and in the town. He built scale models of some of the ships he was captain of, which are priceless to his family. In his later years Bruce also loved working as a crossing guard for the schools, which allowed him to get out and help others, which he thoroughly enjoyed.
Bruce's family will be forever grateful for the friendship and support shown by Suzanne, Rosemary, and Jim, when Bruce needed it most.
A graveside service of committal and interment will take place at Lakeview Cemetery in Meaford on Thursday, November 9, 2023, at 1:30 p.m.
As your expression of sympathy, donations to the Meaford Hospital Foundation would be appreciated and may be made through the Ferguson Funeral Home, 48 Boucher St. E., Meaford, ON, N4L 1B9, to whom arrangements have been entrusted. www.fergusonfuneralhomes.ca