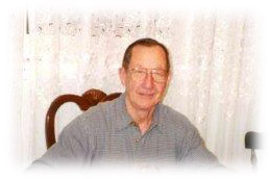 July 18, 1935 – March 26, 2021
Douglas J.M. Robertson, at age 85, passed away peacefully on Friday March 26, 2021, at Collingwood General and Marine Hospital.
He was born July 18, 1935, in Meaford, ON, as the only child to Merle and Myrtle Robertson. He graduated from Meaford High School in 1953. He then went on to work for the Toronto Dominion bank for numerous years as a manager, and later opened his own coffee truck business, called 'Doug's Catering', which he ran until his retirement. In 2005, Doug and Gloria moved from Markham to Wasaga Beach to enjoy their retirement in a smaller community.
Douglas lived his life for his family. He is predeceased by his wife of 37years, Gloria Cardozo, and son David, and he leaves behind his son Ian, daughter Lisa Hurley, granddaughter Savannah Hurley, and stepson Shawn Deane. Douglas enjoyed a simple life and was happy when reading the newspaper and smoking a cigar. He would often be seen wearing a baseball cap and taking strolls around the neighbourhood, sometimes in search of his cat, Marble, who brought him joy beyond words. He was a devoted family man. His love for his wife Gloria was unconditional, and he was by her side through her battle with cancer. He loved spending time with his daughter, Lisa, bonding over her sport of choice as an equestrian and attended all of her shows. He and Gloria took much pride in raising their granddaughter from age two and he loved her with everything he had to give.
Arrangements have been entrusted to Chatterson Funeral Home, Collingwood. A private family service will be held in the chapel of Chatterson Funeral Home on Saturday, April 10, 2021. To leave a message of condolence or to share a memory of Douglas, please visit www.chattersonfuneralhome.com