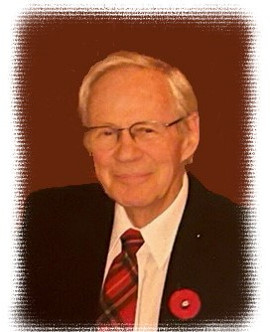 Garry McEachern passed away peacefully at Lee Manor Nursing Home in Owen Sound on Sunday, March 19, 2023, at the age of 86.
Garry was born at home in Meaford February 19, 1937, to Mabel (nee Campbell) and Joseph McEachern, originally from Midland. His family stayed a short three years in Meaford, then moved to Barrie to secure work, then on to Toronto where he was raised with his sister Jane and brother Bill. He attended Jarvis Collegiate where he met his future wife, Greta McEachern (nee Black), at a lunchtime sock hop. They married in 1960 after Garry graduated from Victoria College and Emmanuel College of University of Toronto. He was ordained as a minister in the United Church of Canada. Garry and Greta headed out to High Prairie, Alberta, where Garry held his first posting for the church. Their son David was born in 1963 in Alberta, and daughter Laura followed in 1966 when they were stationed in Thessalon, Ontario.
Garry changed careers and was pleased to move back to Meaford to become one of the first teachers hired at the newly opened Georgian Bay Secondary School in 1969, where he remained teaching until his retirement in 1995. He really enjoyed teaching English, Drama, and History. Students remember him for his enthusiasm and school spirit. He coached cross-country running, and when Meaford celebrated its centennial in 1974 he started the Big Apple Road Race, which later grew into the Harbour Run. Garry believed in community and was involved in organizing the Red Cross blood donor clinics for 25 years. He sat on many committees in Meaford United Church and thoroughly enjoyed his time in the 55+ Club penning some satirical performances for the group. He played the senior version of Andrew Gawley: The Man With The Steel Hands at Meaford Opera House in 2014.
Garry was a local historian and passionately researched and published two books: Upwards to the Stars, the social history of secondary education in Meaford from 1890-1990, and If Freedom Means This Much to You, the story of the contributions of the citizens of the Meaford area to the two world wars. Meaford Public Library became his second home as he searched for historical documentation of war brides that came to the area and the development of the Meaford Tank Range. Much of his research and artifacts are now housed in the Meaford Museum's historical collection.
Garry was a devoted husband to Greta. He was a kind, caring, and loving father to his daughter Laura and his son-in-law John Burton, and was predeceased by his son David McEachern. They raised their family on Trowbridge Street (three doors down from his birth home) calling it home for 37 years. He developed Parkinson's in his later years, eventually moving to Lee Manor where the wonderful staff at Lee Manor LTC home took excellent care of him until he passed peacefully early morning March 19, with family by his side.
Friends will be received for a public visitation at the Ferguson Funeral Home in Meaford on Friday, March 24, 2023, from 6 until 8 p.m. A funeral service will be conducted at the Meaford United Church on Saturday, March 25, 2023, at 11 o'clock, followed by a time for refreshments and sharing memories of Garry.
As an expression of sympathy donations to the Meaford Museum (cheques only please – payable to the Municipality of Meaford) would be appreciated and may be made through Ferguson Funeral Home, 48 Boucher St. E., Meaford, ON, N4L 1B9, to whom arrangements have been entrusted. www.fergusonfuneralhomes.ca