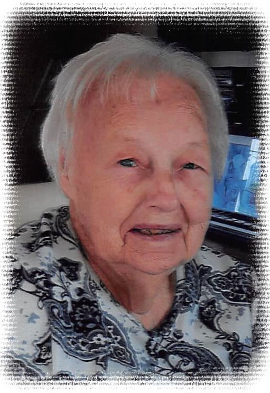 Velma Levina McCrabb (nee Skippen) passed away peacefully at the Meaford Long Term Care Centre in her 96th year. She was predeceased by her beloved husband Rhesa McCrabb in 2015.
Velma was the much-loved mother of Glen McCrabb (Julie), Faye McArthur (late Stu Anderson), Gale Rice (Steve), and Karan Fawcett (late Everett). She was predeceased by her infant daughter Phyllis. She was the proud grandmother of 8 grandchildren, 8 great-grandchildren, and 4 great-great grandchildren.
Velma will be remembered as a kind and gentle soul and will be missed by all.
A funeral service will be conducted at the Ferguson Funeral Home on Thursday, December 8, 2022, at 11 o'clock, with visiting the hour prior to service. A service of committal and interment will take place at Lakeview Cemetery in Meaford.
As your expression of sympathy, donations to the Alzheimer's Society or the Meaford Hospital Foundation would be appreciated and may be made through the Ferguson Funeral Home, 48 Boucher St. E., Meaford, ON, N4L 1B9, to whom arrangements have been entrusted. www.fergusonfuneralhomes.ca