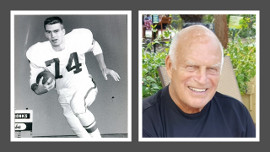 1937 – 2022
John passed away peacefully on September 15, 2022, at the age of 85. John was born in St. Lambert, Quebec, to Jeanette and Dryden Bennett. He is survived by Carole-Anne, his beloved wife of 62 years. John was blessed with three wonderful sons – Jim (Kate), Peter (Jennifer), Billy (deceased), and two grandsons, Jake and Tyler. He is also survived by his brother Peter (Irene), and their children Carly, Lindsay, and Scott.
John was a highly recognized athlete coming out of Loyola High School in Montreal. He graduated from McGill University where he starred on the football field, receiving All-Canadian honors as a wide receiver three years in a row. He went on to play professional football for the Calgary Stampeders and coached the East York Argonauts and Bramalea Satellites in the former Ontario Rugby Football Union.
John enjoyed many work opportunities throughout his life. He excelled in sales in the packaging industry, finishing his career with Multipak Ltd. John also taught high school at Georgian Bay Secondary School (GBSS) in Meaford, Ontario, where he both established and coached the GBSS Vikings football program. John then left teaching and the family moved to Burlington, where he worked as a stockbroker. His passion for coaching remained as he proudly coached his sons in the Burlington Minor Football Association.
John returned to the Georgian Bay area as General Manager of Georgian Peaks Ski Club from 1976-1980. He continued to work tirelessly in developing Ontario ski racing programs and was recognized with a Special Achievement Award by the Province of Ontario in 1989 for his distinguished contribution to the field of fitness and amateur sport.
John was dearly loved by his family and friends. We will miss him.
John will be celebrated in a private funeral service in Collingwood at Fawcett Funeral Home on September 23rd. He will be laid to rest with his son Billy the following day in Burlington, Ontario.
The family would like to thank the team at Amica Georgetown for their compassion and for the exceptional care they provided John.
In lieu of flowers, donations may be made to the charity of your choice.
Condolences can be left at www.fawcettfuneralhomes.com