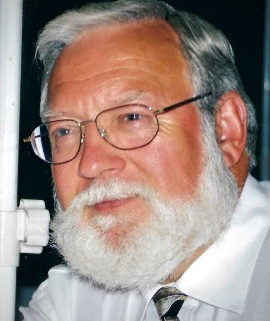 I passed away April 20, 2023, in my 83rd year. The dreaded cancer was the cause! I lived a wonderful, exciting, and gratifying life.
My Mom and Dad preceded me in 1978 and 2007 respectively. I am leaving my brother David Hierons, his wife Anna and their family. I am leaving as well Liz (nee Wismer), my wife of over 60 years. She was always supportive, despite some of my crazy ideas/schemes! Liz has always been the cornerstone of our family. Three wonderful kids, Lisa Thompson (Rob Tschirhart), Alison Hierons (Mike Lowes), and son Trevor Hierons (Lisa Hierons), made life most interesting. I am so proud of you all and your many accomplishments. I know that the future holds bright things ahead for you – enjoy the ride!
I had the privilege to watch four grandchildren grow to adulthood: Kiefer (Alex), Jackson, Carter, and Madeleine. You are all pursuing academic dreams and long term professions and I wish you well!
We are a close family, enjoying many celebrations, highlighted by trips to Bermuda, Europe, California, and Newfoundland together. What great times we had! What great memories!
Since I was four years old and living in the country, I became more than interested in nature, farming, animals, and the "great outdoors". I always wanted to be a farmer. A banking career of over 40 years changed the path however, and 16 moves to new residences did not dampen my spirits. At numerous locales I still had the facilities to have my "hobby farm".
I am eternally thankful to my many friends, associates, and acquaintances who improved and enhanced my quality of life. I always enjoyed intelligent conversations and learned from you all. Thanks for teaching, assisting, guiding, and being great mentors.
I can't leave you without mentioning my collections, which consumed most of my life (at times sacrifices by Liz and the kids). There are too many to list but I was passionate about each!
I wish to encourage all to donate/volunteer and give back. It is such a good feeling to provide help to others. I enjoyed being part of several organizations and not-for-profit efforts. The latter taught me so much, especially humility.
I am forever grateful to the Southwest Local Health Integration Network (home and community care). A special recognition to Dr. T. Ellingsen and his support team for their unwavering and sensitive care and expert clinical guidance. Palliative care is not easy, however, every time I left his office I felt better and knew I was in great hands.
Cremation has taken place and a Celebration of Life will be held on June 10, 2023, between 1 – 4 p.m., at the Best Western Inn on the Bay in Owen Sound. As for donations, a charity of your choice would be nice, otherwise please consider Grey Bruce Hospice Inc. (Chapman House), the Canadian Food Grains Bank, the Meaford Hospital Auxiliary, or Participation Lodge Grey Bruce.
I wish to leave you by quoting the inscription as it appears inside my 50th wedding anniversary ring: "Life begins and ends with Family".
Goodbye and thank you.
Stan
Stan's family would like to acknowledge the wonderful, sensitive care given by the entire team at Chapman House. They kept him comfortable while taking care of us and our many questions. Arrangements entrusted to Grey Bruce Cremation and Burial Services, www.greybrucecremation.com.