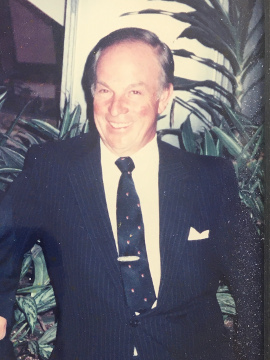 February 26, 1934 – March 9, 2022
Frank Donnelly passed away at Chartwell Lakeshore Retirement Residence in Burlington, Ontario, on Wednesday, March 9, 2022, at the age of 88. He joins his beloved wife Jean Donnelly (nee Webber) who passed on May 16, 2021.
Born in Edinburgh, Scotland, on February 26,1934, Frank was the son of the late Francis Joseph Donnelly and Jane Donnelly (nee Phillips). He is predeceased by his sisters Betty (George Purvis) and Ella (Thomas Boller).
In his early years, Frank enjoyed playing soccer and worked at the Royal Mail post office before joining the Royal Air Force where he was a Senior Aircraftman (1953-1955) stationed in Staffordshire, England, where he met Jean, the love of his life, at a Hogmanay dance. In 1953 Frank had the honour of wearing his dress uniform as a Route Liner at Queen Elizabeth II's Coronation. Jean and Frank were married on March 26, 1955, and worked at a local pub together until they emigrated to Canada and settled in the Leaside neighbourhood of Toronto.
Frank was hired by TransCanada Pipelines and dedicated his working life there, achieving the position of Senior Purchasing Manager. He was instrumental in the successful completion of the Canadian coast to coast pipeline and eventually retired in 1989 at the age of 55.
Jean and Frank then moved to Meaford, Ontario, where they spent over 30 more years together enjoying the small town environment and living near Georgian Bay. Frank remained involved in the community through curling, golfing, hosting investment club meetings, and serving as a Director for Heritage Meaford.
He is lovingly remembered and will be terribly missed by his dear friend Margaret MacKay (widow of his best friend Donald) and their children Leslie (husband Gary and daughter Courtney Jean), and David (wife Susan and sons Cameron and Brodie). Frank was a true gentleman and will also be missed by the friends and neighbours whose lives he touched with his kindness and beautiful smile.
Special thanks to Chartwell Lakeshore Retirement Residence, the Joseph Brant Cancer Clinic and Home and Community Care Support Services for the care they provided.
A private memorial service will be arranged at a later date. As your expression of sympathy, donations to Joseph Brant Hospital's Cancer Clinic in Frank's name would be appreciated.
Messages can also be left at https://obituaries.basicfunerals.ca/obituary/FrancisFrank-Donnelly