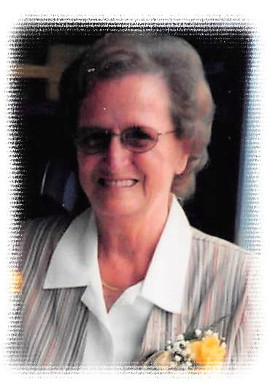 Betty Joan Doherty (nee Miller) passed away peacefully at her home in Meaford on Wednesday, December 21, 2022, with family by her side.
She was the much-loved wife of James 'Jim' Doherty of Meaford and they would have celebrated their 65th wedding anniversary in June. She was the devoted and loyal mother of Kathy Freiburger of Paisley, Mike Doherty of Meaford, and Tracy VanAalst of Meaford. She was the proud grandmother of Deanna Freiburger of Walkerton and was predeceased by her grandson Jeff Freiburger of Paisley, and son-in-law Gordon VanAalst of Meaford. Betty will be fondly remembered for her love and devotion to her family, always doing things with her children and grandchildren, making sure they were well cared for.
Betty was a daughter of the late Charles and Jennie Miller of Rocklyn. She is survived by sister Dianne Rowles of Meaford and her sister-in-law Nancy Weatherall of Wasaga Beach. Betty was predeceased by sisters Marie McKibbon-Bell of Meaford, Florence Brinkman-Johansen of Fort Myers, Florida, her brother Keith Miller of Meaford, and her sister-in-law Beth Green of Meaford.
Betty was born and raised in Rocklyn and spent her childhood working on the family farm. She loved the country and farming. She spent 22 years as a school bus driver, working for Ed Smith Tire Service in Meaford. Following this, she was a rural postal delivery driver for many years. She loved the spring and summer seasons and enjoyed tending to her vegetable and flower gardens.
Betty will be warmly remembered by countless students and customers that she delighted in serving, with an infectious smile, a silly laugh, and a kind word for everyone.
Private family arrangements at this time with interment at Lakeview Cemetery in Meaford in the spring of 2023.
As your expression of sympathy and in lieu of flowers, donations to the Meaford Hospital Foundation or a charity of your choice would be appreciated and may be made through the Ferguson Funeral Home, 48 Boucher St. E., Meaford, ON, N4L 1B9, to whom arrangements have been entrusted. www.fergusonfuneralhomes.ca