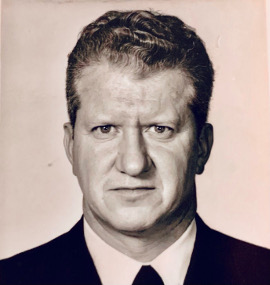 Born December 29, 1936, died March 18, 2022
Born in Hanmer, Ontario, to Marie-Laure (née Proulx) and Alphonse Deschênes, Jean-Paul was one of 10 children. In his youth, Paul studied and helped on his family farm milking the cows and tending to crops. After his father died, he returned to Hanmer for harvest time. He joined the Royal Canadian Air Force in 1954 and served his country for 37 years. At retirement, he was the longest serving member of the Canadian Armed Forces.
Jean-Paul worked hard to provide for his young family with four children. In addition to his full-time job in the Forces, he worked nights and weekends bartending and in a canning factory to make ends meet. He was in active service near Montréal during the Front de libération du Québec (FLQ/October) crisis when the War Measures Act was invoked.
With diligence, hard work, and no small charm he was promoted to Chief Warrant Officer. He loved running the orderly room and embraced the responsibility and independence that came with the position. Over his career, Jean-Paul had been posted to Metz, France, and Canadian Forces Bases in London, ON, Winnipeg, MB, Trenton, ON, St. Jean, PQ, Borden, ON, Cold Lake, AB, Downsview, ON, and National Defence Headquarters in Ottawa. He passionately served his community in a variety of ways, including as Mayor of Base Borden, participating in his church, and numerous other ways.
Jean-Paul met his wife, Diane, when they were both serving in 1 Air Division in Metz, France. He bravely returned to Canada to meet his fiancée's family solo, before Diane returned to Canada. They wed in Dundas. His greatest loves were reading, travel, the Habs, listening to classical music/attending the symphony, and talking about politics/current events with Chloë. Jean-Paul's grandchildren and great-grandchildren were great joys, and his children visited frequently. During the COVID pandemic, he took shelter at Phil and Marlene's homes for a time.
In retirement, Jean-Paul enjoyed living on the beach in Meaford, where he is remembered as an engaging, kind neighbour who walked daily and always had time for conversation or a beer. Jean-Paul was quite fond of whiskey and brandy as well. He was a gracious host who was comfortable in any setting. He eventually relocated from Meaford to Kingston to Owen Sound where he settled into the Seasons retirement community. Jean-Paul was very fond of, and grateful for, the care and support he received from the fine women working at Seasons. He thrived in their company, and enjoyed the dining companionship of his friend and neighbour, Jean.
Jean-Paul died on March 18th surrounded by family in Grey Bruce Health Services in Owen Sound.
Husband of the late Elizabeth Diane (née Griffin), father to Michelle, Muriel (Trisha Welch), Phil (Suzanne), and Marlene. Beloved brother of Lucille, Guy, Jacqueline, Germain, Carmen, Jeannine, Alcide, Aime, and Michel. Grandfather to Rachel Roenspies (William Kim) and Tony Roenspies (Kerry), Bridget and Thomas Deschênes, and Chloë Deschênes (Kyle Ashley). Jean-Paul was a great-grandfather to Reese Roenspies and Griffin Ashley.
Jean-Paul's family sincerely thank Drs. Van Zyl, Lehmann, and Huggins for their contributions to Jean-Paul's well being. Likewise, his family appreciates how the team at the Owen Sound Regional Hospital treated him with the dignity and respect he so deserved. We are grateful to all of you.
Jean-Paul's family would appreciate it if you might please consider a donation to World Vision International. He enjoyed helping people to help themselves. As regular gifts to his family, he was pleased to buy goats, chickens, and other beasts for communities and families in need.
A funeral mass will take place Monday, March 28, at 11 a.m. at St. Mary's of the Assumption in Owen Sound, Ontario. A reception will follow on site. Jean-Paul will be laid to rest in the National Military Cemetery in Ottawa at a later date.