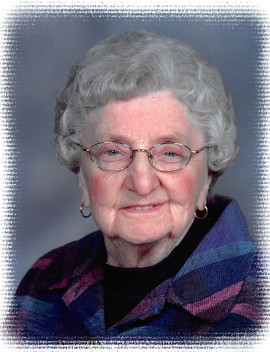 1923-2023
Jean Cramp passed away peacefully at the Meaford Long Term Care Centre on Sunday, March 12, 2023, just shy of her 100th birthday.
Born in Euphrasia Township on March 18, 1923, Jean was the youngest daughter of Levi and Catherine (nee Lovatt) Pottage. She is predeceased by her two brothers, Harvey and Ray Pottage, and her twin sisters Mildred Wood and Audrey Bumstead.
Jean married Elwood Cramp in May, 1945. She was the much-loved mother of six children, Joyce (Ron) Knight, Linda (Garry Kennedy), Wayne and Marjorie Cramp, Gayle (Peter McDonald), Debby (Len Falco), and Connie Caisse. She was predeceased by her son, Garry Cramp. Jean will be dearly missed by her children, 15 grandchildren, 21 great-grandchildren and one great-great-grandchild.
She and Elwood farmed on the Fourth Line of St. Vincent Township, raising cows, pigs, chickens, and children. Jean was a hard worker, she loved the Lord and made sure her children got to church every Sunday.
Jean loved to garden, do canning and freeze food from the garden for the family. She loved to quilt and made sure every grandchild received one for their wedding gift. She was famous for her chocolate cake cut in a star and her chocolate pie.
She has been a resident at the Meaford Long Term Care for 18 years and although her memory failed her, she had the most beautiful smile for the staff and visitors. Jean's family express their gratitude for the care and compassion shown to their mother over the years.
Jean's family will receive friends for visiting at the Church of Christ in Meaford on Thursday, March 16, 2023, from 11 until 12:30. A funeral service will be conducted at the church at 12:30 with a reception following. A private service of committal and interment will take place at Lakeview Cemetery in Meaford.
As your expression of sympathy, donations to the Meaford Church of Christ, Meaford Nursing Home Auxiliary, or the Meaford Hospital Auxiliary (Cheques Only For All Requested Charities Please) would be appreciated and may be made through the Ferguson Funeral Home, 48 Boucher St. E., Meaford, ON, N4L 1B9, to whom arrangements have been entrusted.