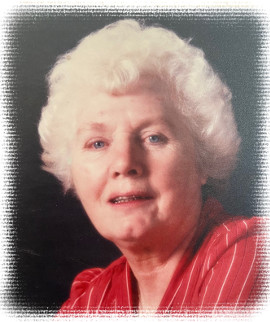 Marjorie Biggins passed away peacefully with family by her side at the Meaford Hospital on Tuesday, August 30, 2022, in her 99th year.
Born in England on January 1, 1924, she was the daughter of the late Fred and Gladys Maxey.
Marjorie was predeceased by her beloved husband B. Eric Biggins.
She was the loving mother of Michael, Pamela, Helen, Judith, Robert, Gerry, and Michelle, and was predeceased by her son Philip.
Marjorie was the proud grandmother, great- and great-great grandmother to almost 30 beautiful grandchildren.
She will be remembered fondly by her daughter-in-law Sue Ellen Briggs (nee VanKoughnut), her in-laws Ken and Phoebe Biggins, Lawrence Biggins, her lifelong friend Eric Rigby, and the many friends she has made in her lifetime.
Marjorie started her career in the British Civil Service and ended her working life with almost 50 years as a Real Estate Broker on the shores of Georgian Bay. She and Eric chose this area to raise their children and call home. After an illustrious dance with life, she always saw the glass as half full, never half empty, and left us to reunite with her loved ones who have passed before her.
Family will receive friends at the Ferguson Funeral Home on Thursday, September 8, 2022, from 6 until 8 p.m. All are welcome to attend a funeral service at Christ Church Anglican in Meaford on Friday, September 9, 2022 at 11 o'clock, with a reception following. Interment will take place at Lakeview Cemetery.
As an expression of your sympathy, donations to Golden Town Outreach (cheques only please), Beautiful Joe Heritage Society, or the Meaford Hospital Foundation or a charity of your choice would be appreciated and may be made through the Ferguson Funeral Home, 48 Boucher St. E., Meaford, ON, N4L 1B9, to whom arrangements have been entrusted.