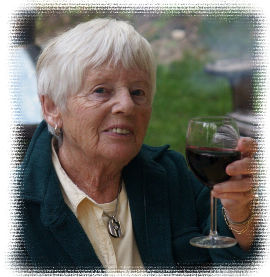 Tina Andersen (nee Pieters), born December 28, 1926, passed away November 22, 2021, at the age of 94.
She was born in Zaandam, The Netherlands. Tina was the middle of five children. As a teenager in Holland during WW II, she brought supplies to those hiding underground, using her bike (of course). It was the start of a lifetime of helping and caring for others. Tina had many adventures in Holland, always doing excellently in school, and started her working career as a secretary.
Always strong and independent, in the 1950s Tina immigrated to Canada, starting out in London, Ont. She had different jobs including working at London Life, until settling in as an executive secretary at the John Labatt offices. While living in London she met her first husband, Niels Andersen, who had immigrated from Denmark. They had three children: Thomas, Yvonne, and Eric, all born in London. In the late 1960s they bought a one-bedroom cottage on the waterfront in Thornbury, Ont. In the late 1970s they built a house on the property, moving from London to Thornbury. In the Thornbury area, while raising her three children, Tina had various jobs. Her final position was as an administrative assistant at the Niagara Escarpment Commission. During that time, after her children became adults, and on her own, she welcomed two ladies with special needs into her home in Clarksburg, Ont. This was arranged through the Share Your Home program and brought Beverly Johnson and Bertha Criddle into her life and family for many years. She also periodically cared for foster children in her home. After her retirement, she moved to Meaford, Ont., and resided with Ralph McPhee who passed away in 2014. She and Ralph enjoyed their retirement years together including hosting friends and family at their camper during the summer and enjoying each other's families. In 2019 she returned to London, Ont. in her 90s and resided at Mount Hope Centre for Long Term Care. Tina had loving and quality care in her final years, with her daughter Yvonne visiting almost every day. Mom had a great sense of humour, but one of her greatest qualities was the caring way she treated those who may be overlooked in the world, as demonstrated time and again in her life. So, in her honour, at 4 o'clock pour yourself a drink and clink your glasses.
We love you Mom. Signed with love by all of your children, grandchildren, family, and friends. P.S. 'You made the world a better place.'
Tina's life will be celebrated on Wednesday, December 29, 2021, at the Ferguson Funeral Home in Meaford, where family will receive friends from 12:30 until 2:30 p.m. for a come and go public visitation. We ask that masks be worn and that all Covid-19 rules and restrictions are respected to keep everybody safe. A private graveside service will be conducted at Lakeview Cemetery in Meaford.
As your expression of sympathy and in memory of Tina and her kind heart, donations to Amnesty International Canada would be appreciated and may be made through the Ferguson Funeral Home, 48 Boucher St. E., Meaford, ON, N4L 1B9, to whom arrangements have been entrusted. www.fergusonfuneralhomes.ca