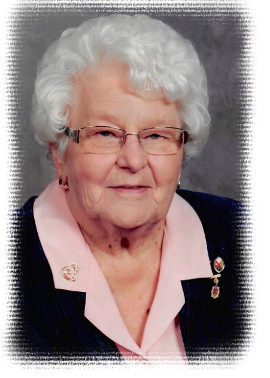 Born in Markdale on March 26, 1930, a daughter of the late Ed and Millie (nee White) Loucks of the East Back Line in Flesherton, Verna passed away peacefully in Meaford on Tuesday, September 14, 2021, at the age of 91.
She was predeceased by her beloved husband Raeburn Almond in 2001 and is survived by her children Rae and his wife Sheila of Guelph, Kevin and his wife Emily of Meaford, Judi and her husband George Serpa of Tara, and Dwayne of Pt. Ryerse. She was predeceased by a daughter-in-law, Cathy. She will be sadly missed by her grandchildren and great-grandchildren: Jeff and Betty Jo and their children Hailey and Joseph; Julie and Chris Rasso and their children Lucas, Samuel, Thomas, and David; Paul and Tim; Johanna and Scott Hayward and their children Meganne, Matt, and Jack; Josh and Deb and their children Tanner, Griffin, and Parker; Ben Serpa; and Jordan and Alex and Braeden. She will be remembered by many in the community simply as 'Granny'. Verna is survived by brothers Milford (late 'Dini'), and Clifford and his wife Ineke, and a sister Doris (late Archie) Cunningham, and is survived by a sister-in-law, Marie Loucks. She was predeceased by brothers George (late Dorothy), Carman, Ronald (late Margaret), Jack (late Edna), Norman (late Mary), and Ross (Sandra) and sister Jean (late Syl) Merla. She was a dear sister-in-law to Frances and John McKee, Muriel and Doug Armitage and Ann Jarvis, and 'Auntie Verna' to numerous nieces and nephews and their families. She will be recalled fondly also by Anne Almond of Meaford.
A devoted member of Meaford United Church, Verna was the honorary chair of the 'Raise the Roof Campaign', a life member of the UCW and longtime member of the 'Busy Bees', as well as performing her duties as the church 'Sunshine Convener' for many years with great dedication.
Family will receive friends at the Ferguson Funeral Home in Meaford on Friday from 4 until 7 p.m. Masks are required and all Covid restrictions will be applicable. A private family funeral service will be conducted at Meaford United Church on Saturday, September 18, with interment and committal to follow at Lakeview Cemetery. If so desired and as your expression of sympathy, donations to Meaford United Church 'Raise the Roof Campaign' (Cheques Only Please) or the Meaford Hospital Foundation would be appreciated. www.fergusonfuneralhomes.ca