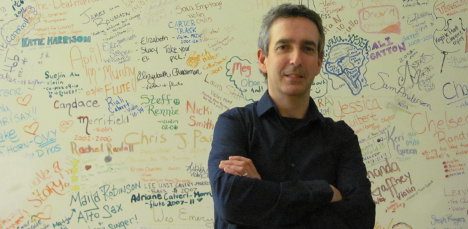 This June, GBSS Music will be holding an event that has never been done before. Dozens, perhaps hundreds, of past students will return to participate in the Music program's first-ever alumni weekend.
Over the weekend of June 5-7, the high school will host music students from the past 15 years, ever since Patrick Delaney has held the role of music teacher. They will have a chance to reconnect, take part in workshops, and then they'll perform together – just like old times – as an orchestra.
Over these 15 years at GBSS, Patrick Delaney has taught approximately 450 students in the school's beloved music program. These students have gone on to live all over the world, and work as doctors, tradespeople, teachers, architects, pharmacists, and many other professions, and have accomplished much.
The idea to bring them back in this way was born with two goals in mind: to reunite and bring together old friends as a 'reunion' experience, and also to ignite positive energy into the school. Ultimately it is hoped that positive events such as this will work to counteract much of the recent negativity looming over Georgian Bay Secondary.
"I want to bring back these doctors and teachers (and whatever else) and hear their success stories and build up the school," Delaney explained. This event is one of several, from many of the school's different groups that have been held this year in order to increase the positive interaction with the community.
Delaney went on to share an experience that inspired him to make an extra effort to improve the school's reputation. "This past summer I heard someone ask what good has ever come (out of GBSS), so I thought that we should bring the people to see all the good that has come," he said. The intention is that the alumni will function as positive examples of what GBSS can produce.
Over the past several months nearly all these graduated students have been contacted with an invitation to attend the weekend. There are still a few that have not been found, and the organizers would appreciate being contacted by anyone who is a music program alumnus or knows the contact information for someone yet to be contacted.
Despite the ones unfound, the response from those contacted has been incredibly positive, and over 80 have already confirmed their attendance. Many others are excited at the prospect, but unsure of their abilities to effectively play their instrument, as some have not played since graduation. Delaney assures that there is no reason to worry, and that he is not concerned with how much they have maintained their musical skills.
Furthermore, the weekend will coincide with two other regular music events. The Friday night will be the year's final coffee house, and the returnees are encouraged to come and watch, or even perform.
The weekend will conclude on Sunday evening with the annual spring concert. This year's program will include the alumni performing together as an orchestra, along with all of the other musical ensembles. The spring concert annually is the display of the pieces that have been worked on all year, and is also a form of graduation ceremony for the Grade 12 students of the music program.
Delaney hopes that this event will be positive and encouraging for all those involved. "It's a celebration, a chance to see the community again... and help."