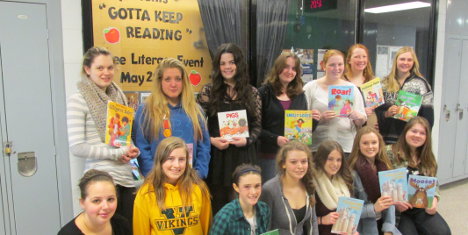 The Born to Read group at GBSS is thrilled to announce a free Family Literacy Day in Meaford on Wednesday, May 20. The event is called "Gotta Keep Reading" after the song with the same name that will be featured in literacy flash-mobs by our local schools.
"This is our 10th year of running our early childhood literacy initiative. We are a small group of about 15 students who are dedicated to reading and to promoting literacy. We partner with Keystone to get brand new children's books and facts about literacy into households across Grey Bruce, and we visit JK classes at MCS, SVE, and BVCS to promote reading with JK classes. To date we have donated over 1,200 literacy packages to Keystone and over 600 books to JK students," said GBSS teacher Amy Teed-Acres, who organizes the Born to Read program.
One of the group's goals has always been to have a free, inclusive literacy event in Meaford with a dynamic Canadian children's author. "We are thrilled to welcome Werner Zimmerman to Meaford Hall on Wednesday, May 20,and Deborah Ellis to Georgian Bay Secondary School on Monday, May 25," said Teed-Acres.
Werner Zimmerman will be the guest author for two performances during the day, and then students are invited to bring their families back to the Community Open House from 5-7 pm. During this time there will be a meet and greet with the author, literacy activities and games, displays from community partners and a 'me to we' book exchange.
Zimmerman was born in Austria and grew up outside of Hamilton, Ontario. He attended the University of Guelph and teaches Life Drawing and Animation Arts at Seneca College and Humber College. Among his books are Porcupine and a Pine Tree, Pippin the Christmas Pig, Listen Said the Donkey, Whatever you do don't go near that canoe!, Snow Day, and Farmer Joe. He was awarded the Mister Christie Book Award for Pippin the Christmas Pig, and Best Picture Book of the Year for Porcupine and a Pine Tree.
On Monday, May 25, human rights activist Deborah Ellis will visit GBSS for two presentations to elementary and secondary students.
Ellis is an award-winning Canadian author, feminist, and peace activist. She has written several books, including The Breadwinner, Parvana's Journey, Mud City, The Heaven Shop, and The Cat at the Wall. She is a passionate activist and has donated most of her royalty income (over $1 million) to causes she believes in and fights for, including Canadian Women for Women in Afghanistan, Street Kids International, Children's Crisis Fund of IBBY (International Board of Books for Young People), and Unicef. She has been named to the Order of Ontario.
Her many awards include the Governor General's Award, Ruth Schwartz Award, University of California's Middle East Book Award, Sweden's Peter Pan Prize, Jane Addams Children's Book Award, Vicky Metcalf Award, and the Ontario Library Association's President's Award for Exceptional Achievement.
Born to Read is thrilled to be partnered with the Meaford Public Library and Meaford Hall to bring this event to our community.
"We are hoping that our entire community will be involved in this amazing event. Local businesses are encouraged to create 'Gotta Keep Reading' windows and all community members are welcome to attend the Open House," said Teed-Acres.
For more information about the event or to donate to Born to Read please contact Amy Teed-Acres at 538-1680 (GBSS).