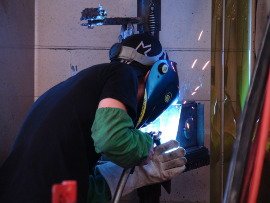 The Ontario Youth Apprenticeship Program (OYAP) is pleased to announce that the 15th Annual Regional Technological Skills Challenge will take place on Friday, March 22, 2019 at Georgian College, Owen Sound Campus, and Owen Sound District Secondary School.
Touted as the premier local skilled trades event of the year, secondary students in trades related programs will have an opportunity to put their skills into action in front of local industry judges. Competitors in the following categories will be tested according to industry standards: Automotive, Carpentry – Team of Two, Culinary, Electrical Wiring, Hairstyling, Precision Machining, Small Powered Equipment, and Welding.
Top scoring students will advance to the Skills Ontario Qualifying Competitions in Barrie on April 6, 2019, while others will compete at the Skills Ontario Competition in Toronto from May 6 to 8, 2019.
Bluewater District School Board students continue to excel in skilled trades challenges at the regional, provincial, and national levels. Over the past four years, students who advanced to the provincial level have been responsible for securing eight gold, three silver, and three bronze medals. At the national level, students from Bluewater District School Board have garnered two gold, one silver, and one bronze over the same period.
"We are excited to welcome this year's student competitors, along with the many teacher/coaches, judges, sponsors, and volunteers whose ongoing support and contributions are critical to the smooth coordination of this event. Based on our past experiences of several successful Regional Technological Skills Challenges, students benefit tremendously from the hands on competitions and mentorship that prepares them for apprenticeships and trades careers," says OYAP Coordinator/Facilitator Dave Barrett.
Members of the media and general public are invited to tour the various competitions at 1:00 p.m. To register for the tour, please email oyap@bwdsb.on.ca or call 519-363-2014, ext. 2132.