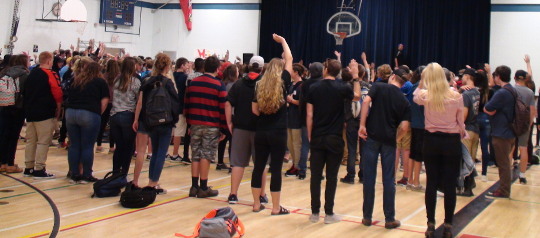 Bluewater District School Board students who are transitioning to secondary school for the first time have a special day of orientation activities dedicated to them on Tuesday, September 4.
Now in its twelfth year, Link Crew Day will be featured at all nine secondary schools for new Grade 9 students.
Senior students, who have received 'Link Crew Leader' training, will be available to welcome and mentor the incoming Grade 9 group at each school to help ensure a smooth transition and introduction to secondary life. Since its launch in Bluewater District School Board, the Link Crew Day program has become an integral back-to-school tradition that is highly valued by students and families for its effectiveness in supporting student well-being, and generating lasting peer-to-peer connections.
Through their own previous firsthand experiences, the Link Crew Leaders are able to quickly establish common ground with their younger counterparts, and help to alleviate some of the typical anxieties that stem from the unfamiliarity of new surroundings, meeting new classmates and staff, and adapting to a secondary course load.
"We continue to be extremely proud of our Link Crew Day program in Bluewater, which has grown substantially over the years and positively impacted thousands of students and families by creating a memorable, enjoyable, and stress-free secondary transition experience," said Blair Hilts, Learning Services Administrator – Student Success.
Activities will focus on 'breaking the ice', team building, resource sharing, and what to expect in a secondary school environment. Schools and students are once again invited to share their Link Crew Day experiences on social media using the hashtag #BWDSBLinkCrew.
Due to Link Crew Day, the first day of classes for those Bluewater District School Board students entering Grade 10 and up will take place on Wednesday, September 5.