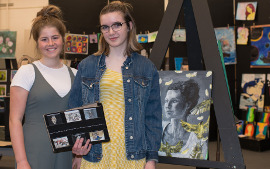 An end-of-year art show gave Grade 9 to 12 students an opportunity to showcase what they had accomplished during their art studies at Georgian Bay Community School.
The art show was the first student art show in a long time, according to teacher Signy Teague, who described the event as an excellent way to get a sense of what the students have accomplished.
"It is important to create an opportunity to acknowledge all the work that the students have done. Sometimes, the students themselves are surprised at how much they have accomplished," offered Teague.
Seventy-five student from Grade 9 to 12 displayed a cross section of artwork representing the mediums and techniques taught in the school's art program - drawing, painting, photography, printmaking, sculpture, and mixed media - as well as art history projects.
Friends, family, and the public were invited to view the artwork on display in the school's art room on June 19.
Grade 11 student Becca McCurdie described art as a challenge and not a career option for her. "It's a difficult challenge," she said, "but one that I enjoy". Whereas Mackenzie acknowledges that art is a welcomed challenge and "a nice profession to be in", she sees art in the her future as a side hobby.
Grade 9 student Mackenzie Dorgelo welcomed the experience despite some trepidations putting her work on display. "There can be so many different reactions," she said. "There is always the chance that people will not understand what the artist intended. People will have their own opinions of my work, but what really matters is what I think of my work… and whether I met the criteria of the assignment."
Some GBCS art students have over the past years pursued careers related to art, according to Signy Teague. "Some of our graduates have gone on to careers in architecture, interior design, visual arts, and film," she said.
Photo: L-R: Grade 11 student Becca McCurdy and Grade 9 student Mackenzie Dorgelo during Georgian Bay Community School art show on June 19 that showcased the artwork of Grade 9-12 students, including Mackenzie's untitled portrait in acrylic.