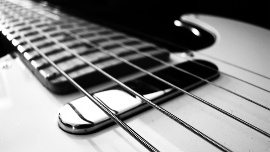 On Friday, April 13, the music program at Georgian Bay Community School will host round one of their first ever 'Music Madness' competition.
The show starts at 7 pm in the cafeteria where a variety of soloists, duets and bands of different musical genres will perform head-to-head in a series of rounds set up in a bracket system, similar to the one used by the NCAA basketball tournament each year.
High school students from all grades will take to the stage including Gr. 9 Emma Wright, Gr. 10 Mira Woodhouse, Gr. 11 Max Breadner and Gr. 12 Owen Kearns, and among several others.
This Friday will feature performances by the 'Sweet 16' and the 'Elite 8' and it will be up to the audience to vote for their favourite act from each round. These votes will decide the final two performers that will ultimately face off for the overall championship title. The climactic second and final round of Music Madness ('Final 4' and 'Top 2') will take place on Friday May 11 .
Tickets are $5 at the door and the community is encouraged to attend both nights to show their support for the young talent that is blossoming in the music program at GBCS.