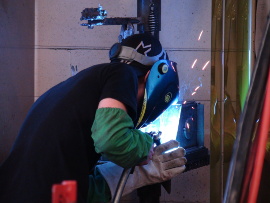 The premier local skilled trades event of the year for secondary students is just around the corner. The Ontario Youth Apprenticeship Program (OYAP) is pleased to once again present the Regional Technological Skills Challenge on Friday, March 23, 2018 at Georgian College and other Owen Sound locations.
Under the watchful eye of local industry judges, student competitors will be tested according to industry standards in any of the following categories: Carpentry - Team of Two, Culinary, Precision Machining, Small Powered Equipment, Welding, Automotive, Electrical Wiring, and Hairstyling.
Some of the top scoring students will advance to the Skills Ontario Qualifying Competitions in Barrie on April 7, 2018, while others will move on to the Skills Ontario Competition in Toronto, which takes place on May 7 and 8, 2018.
Bluewater District School Board students have continually performed exceptionally well at the regional, provincial, and national levels of skilled trades challenges. In 2017, students who advanced to the provincial challenge garnered one gold and one bronze medal. One of those students also represented Ontario at the national event where they secured gold.
"With the renewed focus on skilled trades related training and careers in our region, we anticipate a great turn-out and high standard of performance among our student competitors at this year's Regional Technological Skills Challenge. Many successful trades careers of former students can be traced back to this important event, and we hope that any interested local businesses, industries, media, and others who wish to see our students in action will join us for a tour," says OYAP Coordinator/Facilitator Dave Barrett.
A tour of the Regional Technological Skills Challenge for the public and media will take place at 1:00 p.m. To register, please e-mail oyap@bwdsb.on.ca or call 519-363-2014, ext. 2132.