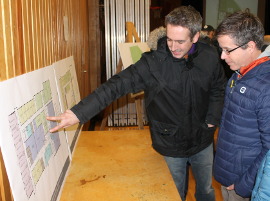 Meaford students can expect to start attending the brand new J/K to Grade 12 school within two years.
The Bluewater District School Board held a public meeting on Monday, December 11 to present preliminary plans for the $24.1 million school to be built on the property that is currently home to St. Vincent/Euphrasia School.
Project Manager Paul Scinocca handled the bulk of the presentation about the new school at the meeting. The first question from the public concerned the timing of when construction will start.
Scinocca said the final concept/plan for the school will be complete in February/March 2018 with a target of going to tender in August in order to start building as soon as possible.
"Realistically, it will be two years. It's unrealistic, in less than a year and half, to build this school," he said.
When complete, the two-story school will accommodate 1,033 students – 613 secondary aged students and 420 elementary school students.
"It's been my pleasure to work on this project," said Scinocca, who stressed the plans presented at the meeting were very preliminary and the designers have many tweaks to do based on comments from the public. "We're looking for comments to develop (the school) in a way that best suits the community."
The current SVE building will remain on site while the new school is constructed. When the project is complete, SVE will be torn down with the space becoming a playground. The costs to demolish the current SVE building will be covered by a special provincial fund and are not included in the $24.1 million.
The designs of the new building include a triple gym, extra shop space and a full outdoor track and field facility. Scinocca said some concepts/ideas in the current plan could be changed or eliminated depending on funding.
Scinocca told the audience of approximately 100 people that the provincial funding formula is very strict for new builds.
"People always ask: "why aren't you doing that and why aren't you doing that?" he said. "This is a tough school to build within the funding formula. The funding formula is very tight."
Photo: Georgian Bay Community School music teacher Patrick Delaney looks over plans for the new school to be built on the SVE property.