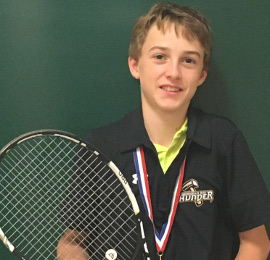 All eyes will be on fourteen-year-old Nolan Smith during the Ontario Secondary School Association (OSSA) open tennis competition in June in Toronto, where competition for the provincial title will be "tough", he says, but nothing the fourteen-year-old Grade 9 student from Georgian Bay Community School can't handle.
Nolan defeated a bigger and older Grade 12 student in the Central Western Ontario Secondary School Association (CWOSSA) open singles tennis competition on October 20 in what has been dubbed in the school a 'David and Goliath match'. That's when years of training, skill development, daily practice, athletic ability, and a keen sense of strategy paid off.
Nolan has been playing tennis since the age of six. He trains under Coach Dave Brown at the Monterra Tennis Club at the Blue Mountain Village.
"Coach Brown trains me on both technique and strategy," he says. "I could see that my opponent at CWOSSA had a big serve that was hard and powerful, but a weak backhand." Nolan braced himself for the powerful serve, played on his opponent's backhand, and won the championship match 8-4.
Nolan has learned to manage his time well, balancing his academic studies with daily tennis practices and his other athletic interests. He is the first in a family of tennis players to play competitively. He combines his tennis training with cross-country competition for cardio, skiing for balance, soccer for foot work, and shooting baskets with his brother for relaxation and fun. His ultimate goal is to apply for a National Collegiate Athletic Association (NCAA) scholarship to complete his post-secondary education in the U.S. and continue his career in tennis at a national competition level.