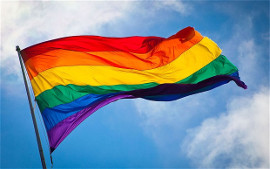 Bluewater District School Board is celebrating Pride Month. Throughout the month of June, schools are demonstrating support and solidarity by displaying the rainbow flag, as well as organizing activities themed around diversity, equality, and inclusivity in safe school communities.
For example, Kincardine District Secondary School recently celebrated the diversity of its school community by participating in a flag-raising ceremony at the Municipality of Kincardine. Through extensive community outreach by the municipality and keen interest from students, an environment has been cultivated where acknowledgement of equality and acceptance can be publicly presented.
At Hillcrest Central School in Teeswater, staff have engaged in discussions with older students regarding put-downs and discriminatory terms. This has led to a positive note-writing campaign among the students, resulting in an immediate positive difference in the classroom culture.
The rainbow flag has a dual nature. On one side, it represents a celebration and acceptance of Lesbian-Gay-Bisexual-Transgendered-Queer (LGBTQ) members of our society. The other side of the flag symbolizes the 'right to exist' as members of the community as a whole and without persecution. While many of our youth today accept this fundamental right, there is still much work to be done throughout our society as a whole to cultivate deeper and broader levels of awareness, understanding, and acceptance.
In Bluewater, Gay Straight Alliance (GSA) clubs are now available in all secondary and most elementary schools. All year round, GSA clubs support numerous events that promote LGBTQ initiatives. For example, Peninsula Shores District School has hosted 'The Big Gay Dance Party' this year, while the GSA at Kincardine District Secondary School has welcomed dramatic arts presentations focusing on social justice issues from travelling organizations. There have also been two GSA 'Diverse Voices' student forums held in recent years at the Bluewater District School Board Education Centre in Chesley.
With contributions from Watson Morris, Kincardine District Secondary School