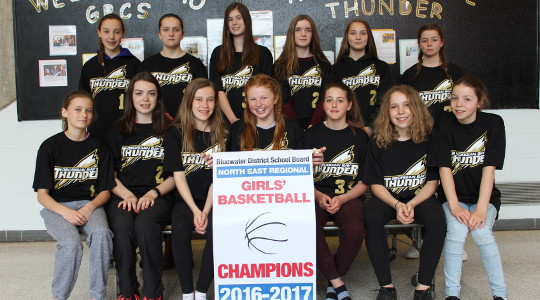 On Friday, April 7, the GBCS Elementary Girls' Basketball Team captured the Bluewater District School Board North East Regional Girls' Basketball Championship.
The team went undefeated in round robin competition, and won in the semi-final match to play Holland Chatsworth in the final. After a close game the girls' team edged out its opponent to capture the 2016/2017 championship.
"Congrats to all of the players for working so hard this season," said GBCS teacher Amy Teed-Acres.
Photo:
Back Row (left to right): Grace Woodhouse, Julia Tichbourne, Megan Acres, Mackenzie Dorgelo, Katie Bellamy, Emma Wright
Front Row (left to right): Shae Acres, Sarah Acres, Morgan Hopkins, Mikayla French, Sophie Damsma, Emma Cornelisse, Sara Wright.