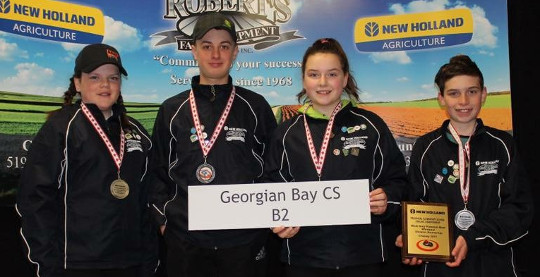 The Georgian Bay Community School Elementary Curling Team ended a successful season on March 26, after the team travelled to Chesley to compete in the New Holland Provincial Elementary School Curling Championship.
The event was attended by 76 teams from across the province and was organized into 15 pools of five teams. Meaford's team defeated Sacred Heart School from Wingham, St. Joseph's School from Port Elgin, and Macphail Memorial School from Flesherton. Their final round robin game was a close one against J. Douglas Hodgson Elementary School from Haliburton. Their loss to this team resulted in their second place finish in their pool.
On the basis of points, all second place teams were ranked. GBCS was second, and earned a berth into the Wildcard Playoff Round. They played Sacred Heart School from Stittsville, North Dundas from Winchester, and Module Vanier from Kingston. They were awarded runner-up in the Wildcard Division.
"What an accomplishment to make the top 20 of 76 teams! Congratulations to this talented group of young curlers. Their sportsmanship and teamwork made GBCS and the Meaford Curling Club very proud. Thanks also to the fans who made the trek to Chesley to cheer them on," said team organizers.
Photo L-R: Madison Saunders – lead, Cameron Lewis – second, Ally Pendleton – vice, Alex McNally – skip