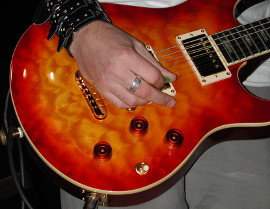 The Georgian Bay Community School music room and hallways have been full of talented musicians preparing for the upcoming Battle of the Bands competition this Friday night.
Friday, March 3, thirteen GBCS bands and soloists will be showcasing their voices and musical abilities while competing against their fellow participants.
There will be a group of judges who will vote and award the top three groups, as well as an audience vote for their favourite act of the night.
Eden Young, lead singer of the band 'Cry for Ophelia', has enjoyed playing in coffee houses and GBSS Idol over the years, and is excited to take the next step into a competitive competition.
"We are all very excited to perform on Friday night! We have been practising hard, and we think it could be one of our best performances yet," said Young.
The show takes place in the gymnasium at 7 p.m. Admission is $5 with all proceeds going to benefit the GBCS music program.