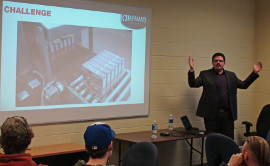 It was an excellent opportunity for Grade 11 and 12 students enrolled in the Specialist High Skills Major (SHSM) program to share their ideas and interact with a diverse range of industry-leading local businesses and organizations. The first of three Innovation, Creativity and Entrepreneurship (ICE) student training events scheduled for the current school year was held on Friday, November 25, at the Bluewater District School Board Education Centre in Chesley.
ICE is sector-specific training that allows students to develop skills and knowledge in their areas of interest. Participating businesses and organizations present real world business challenges to groups of students, who are tasked with brainstorming and developing potential solutions to those challenges.
Bluewater District School Board's introduction to ICE training included a number of interesting challenges.
Manufacturing students from Owen Sound District Secondary School were asked to conceptualize a new ice cream product targeting young children to increase the company's market penetration in this segment. Energy students from Saugeen District Secondary School strategized ways to help consumers use technology to determine the best sources of energy for their buildings and vehicles. John Diefenbaker Senior School Transportation (Automotive Service) students attempted to address the shortfall of new talent in the automotive industry by exploring creative solutions for promotion, recruitment, and retention. Meanwhile, Grey Highlands Secondary School Transportation (Truck and Coach) students brainstormed ideas to increase vehicle efficiency through technology.
Participating businesses and organizations were impressed by the range of innovative ideas pitched by the students. At the day's end, John Diefenbaker Senior School students topped the judges' scorecards for their proposal to use technology to offer virtual reality opportunities to reach students who might be interested in exploring the automotive sector. The school will receive $500 towards its SHSM program from Geezers 24/7, a group of business professionals who support local entrepreneurship.
ICE training participation from businesses and organizations included: MaRS Discovery District, Georgian College (Henry Bernick Entrepreneurship Centre), Chapman's Ice Cream, Trillium Automobile Dealers Association (TADA), Hanover Chrysler, Walkerton Toyota, Timber Mart, RBC, CIBC, BDO Canada, and representatives from Grey County and the City of Owen Sound.
"We are extremely thankful to our local business and industry partners, as well as our staff, who generously donated their time and expertise to our first Innovation, Creativity and Entrepreneurship training event. The success of this initiative demonstrates the strength of our board's community partnerships, which continue to provide important and meaningful career-related programming opportunities for our students," says Director of Education Steve Blake.