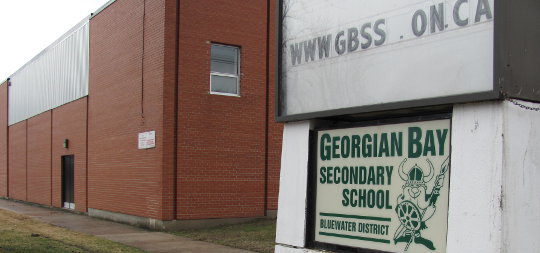 A lack of requests to make delegation presentations at a special board meeting focused on the accommodation review for Meaford's three schools scheduled for Tuesday January 26, has caused its cancellation.
The meeting, which was to have been held at the Bluewater District School Board Education Centre in Chesley (a 75 kilometre drive from Meaford) would have given parents, or other concerned citizens an opportunity to offer their thoughts on a proposal that would close Meaford Community School, and would see elementary grades JK through grade three housed at St. Vincent Euphrasia elementary school, while grades four through eight would be accommodated in surplus space at Georgian Bay Secondary School.
An information meeting held at GBSS in December did not allow for public questions from the floor. Those who wanted to make comment had to register prior to the meeting.

Jamie Pettit, Communications Officer for the school board told The Independent that only one request to present as a delegation had been received, and that request had come from the Municipality of Meaford.
"There was one request received (from the Municipality of Meaford), however, they opted not to delegate but to send us their presentation instead. It is posted on the board website at the following link under 'submissions'," Pettit told The Independent.
Details regarding the modified accommodation review for the Meaford Area Group of Schools are available by visiting the 2015-16 Accommodation Reviews section of the Bluewater District School Board website at www.bwdsb.on.ca.
*Correction: This story orignially indicated that there was no opportunity for the public to comment at the meeting held at GBSS in December. While questions or comments from the floor were not allowed at the meeting, the public had an opportunity to register as a delegation prior to that meeting.