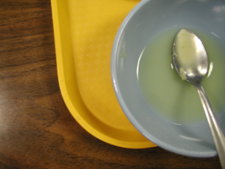 Food for Thought is an inclusive, new breakfast and lunch support program starting at GBSS in the Fall of 2014. It will provide nutritious breakfast and lunch support to any students who need it
It will be served from a central island in the cafeteria where all students and staff can access healthy nutritious food.
"I am starting the program to address a need that exists within our student population and to streamline the efforts that we have had in the past at GBSS to address food security," explains GBSS teacher Amy Teed-Acres. "Many of our students have been supported throughout their time at SVE and MCS and we need to provide them with access to nutritious food so that they have the ability to be successful at school."
Teed-Acres says that in the past the school has provided an informal breakfast program at GBSS and some lunch assistance through our cafeteria and DL classroom but many of the students have experienced obstacles in these efforts and have been "falling through the cracks".
There are a number of students who play on school teams, work or arrive to school late and would benefit from a nutritious breakfast or lunch to support their learning and engagement in school, says Teed-Acres.
"Most of the food for our program will be purchased with funding/coupons through Breakfast for Learning initiatives however we anticipate a greater need than what we will be able to provide. We will rely on donations of fresh fruit (apples) to supplement our breakfasts and lunches," said Teed-Acres.
In order to run a successful program the school is in need of start-up items and funding.
"We require some basic kitchen essentials (cutlery, containers, blenders, cutting boards etc.) as well funds to purchase building supplies to create a service island that will be located in the cafeteria of the school. We will also need weekly or monthly donations of fresh fruit for our breakfasts and lunches," said Teed-Acres. "This cause is very personal to me. When kids are hungry or experience food security issues they cannot focus or learn to their potential. All of our students matter and all are important. Due to family socio-economic, time and work issues many of our students arrive at school without eating breakfast. For many of these students they do not bring or have access to lunch. When they have to worry about things like food there is no way they can reach their full potential in school and when they feel left out or invisible they may end up disengaging in school entirely."
Teed-Acres says that there is a real benefit from this project for our community. A hungry student cannot work to his or her potential in school.
"If we want to give all of our children the best chance to succeed we need to support them in all ways possible. Providing food security is a simple variable that we can control. If a student is supported then he or she is more likely to succeed in school and to graduate. If a student stays in school to graduation then the odds of them gaining employment increases as does the benefit to the community," explained Teed-Acres.
To offer donations to this new initiative, you can contact Georgian Bay Secondary School.