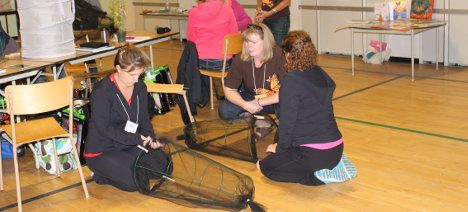 The Monarch Teacher Network recently held a two day workshop in Meaford. Teachers from several Ontario school boards gathered at St Vincent Euphrasia Elementary to learn all about the Monarch Butterfly, a spectacular species at risk pollinator, and how to bring a sense of wonder into their classroom this September.
With support from the Toronto Region Conservation Authority and the TD Friends of the Environment, the Monarch Teachers Network volunteers brought together the story of the Monarch and education.
Participants learned about the life cycle, the scientific history of the search for Monarch over wintering sites and the proper techniques for rearing Monarchs through out their life cycle. Monarch Teacher Network was able to provide participants with the opportunity to tag Monarchs (with small specially developed stickers that have a specific identification number on them) which will allow the butterfly to be tracked through the Monarch Watch organization.
The workshop included many large scope environmental aspects such as habitat loss in Canada, the United States and Mexico, the removal of milkweed (the main diet for Monarch caterpillars) from the Ontario noxious weed list, natural predators to the Monarch, the effects of invasive species and human factors which are linked to the declining Monarch populations.
It was a great opportunity to also showcase the environmental stewardship that teachers at SVE have been leading for several years. Participants were able to release tagged butterflies into the well established butterfly garden behind the school as well as head to the back yard natural area of the school property to hunt for milkweed and caterpillars.
Workshop organizers stated that although there is a noticeable increase in the Monarch population this year, last year's decline is indicative of a worrisome trend in decreasing insect populations. The need to educate on environmental stewardship, habitat protection and climate change is extremely important. Building on the natural curiosity of children and adults is the best way to increase awareness and educate people of environmental issues on a local and a global scale.