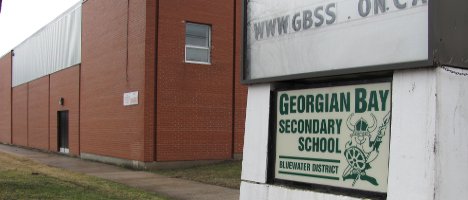 The future of Meaford's three schools might be a little less uncertain after school board trustees gave unanimous initial approval to a plan that would see Georgian Bay Secondary School remain open, while the elementary schools would be merged.
The plan approved by the committee of the whole on Tuesday night (October 6) would see "That the grade 4-8 program in the Meaford Area Group of Schools be re-organized and accommodated in the Georgian Bay Secondary School for the 2016-2017 school year; and That the grade JK-3 program in the Meaford Area Group of Schools be re-organized and accommodated in the St Vincent-Euphrasia Elementary School for the 2016-17 school year," according to Meaford/Blue Mountains Trustee Linda Hamill.
The Meaford Community School would be closed for the 2016-17 year if it earns final approval.
The report presented to the board says that these changes would eliminate 414 currently surplus spaces,  and would save roughly $300,000 in yearly operational costs and $5.1 million in future capital costs.
"It still needs to be passed at a regular Board meeting. I think it is good news," offered Hamill. "The recommendation is saying that secondary education will remain in Meaford."
The board will need to submit a business case to the Ministry of Education to seek funding for a new JK-12 school with a proposed capacity to meet the future enrolment expectations in the Meaford area, Hamill advised.
It was also recommended that the Bluewater District School Board apply for provincial funding to build a new JK to Grade 12 school in Meaford which would eliminate another 300 empty spaces and save $17.4 million in school renewal costs.
The motion will go to the regular board meeting on October 20. If it passes, then a time-line for future action will be released in five days. There will be thirty days before there can be any public meetings, advised Hamill.