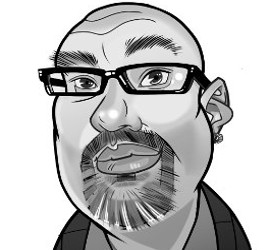 As the month of August is nearing its end, September is right around the corner, and in this year of the pandemic, in Meaford it won't be the September we are used to.
Normally at this time of year we would be just days away from the first scarecrows being erected on downtown lamp posts and creative displays being lovingly created by large numbers of volunteers.
This small rural town has become known over the past 20-plus years for its impressive September-long display of colourful scarecrows as part of the annual Scarecrow Invasion & Family Festival, but thanks to the virus, the event is among many that has been cancelled this year.
Some were surprised when it was announced back in early April that the popular event would be cancelled this year, particularly given that the event traditionally takes place in late September. While the actual installation of scarecrow displays takes place in early September leading up to the big event at the end of the month, the reality is that the success of the event hinges on large numbers of volunteers, more than 250 of them, coming together months in advance to build and dress some 250 scarecrows, not to mention the gathering of all of the props used in the displays.
Gathering in large numbers has not been possible for much of this year given provincial social distancing directives, and without the ability to host scarecrow building workshops, or even to hold meetings with volunteers, the event simply could not proceed in 2020. Even now, with Stage 3 of the provincial reopening strategy well underway, the thousands of people that traditionally flock to the downtown core for the annual parade followed by a collective march to the Rotary Harbour Pavilion area for the big festival simply isn't in the cards when the current largest outdoor gatherings permitted allow for just 100 people.
That doesn't mean that Meaford needs to be sans scarecrows this year. Scarecrow Invasion organizers have encouraged residents to create and display their own scarecrows this year, and they have even posted a video with scarecrow building tips on their Facebook page.
I think it would be fantastic if residents of this community took it upon themselves to build some scarecrows with the family and to create front lawn displays for passersby to enjoy. I think it would be a fitting tribute to the hundreds of volunteers that have dedicated a significant amount of their own time over the years to create a festival enjoyed by many, and I think those volunteers would no doubt be thrilled to see hundreds of scarecrows displayed on lawns throughout the municipality, created by their friends, neighbours, and fellow community members.
It would also be a clear sign to anyone passing through that this is a community pressing forward together.
Building scarecrows is relatively easy. When my own kids were younger we used to build scarecrows and create front yard displays each year. We used to build a scarecrow for each family member, and let the kids decide what they wanted their scarecrow to be doing and what they should be wearing. Over the years we created scarecrows on bicycles, hanging from trees, or raking autumn leaves. It's a fun weekend project that can include the kids, and the end result will no doubt bring smiles to the faces of those passing by.
Many of us have experienced a sort of cabin fever after all of these months of social distancing and isolation, and a scarecrow building project could be just the ticket to get you out of the COVID funk. So gather the family, plan your scarecrows, build them, and put them on display. The required supplies are minimal and are likely already lying around your garage, and we've all got a stash of old clothes that could be used to dress a few scarecrows.
I've included a couple of photos of scarecrows created with my kids when they were younger for a bit of inspiration. If you do create your own scarecrows, send me a photo and some information about your creations, and I will publish them in our print paper throughout September. Send submissions to editor@themeafordindependent.ca.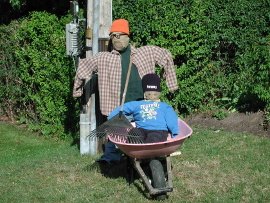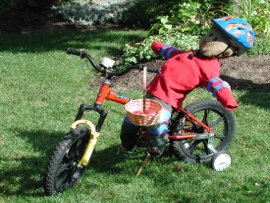 + 14
+ 3