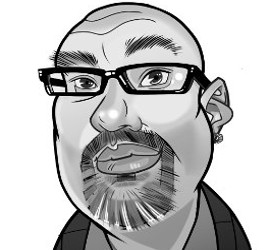 After two decades of helping to develop what has become one of Meaford's most anticipated events each year, Head Scarecrow Marilyn Morris has stepped aside, or in her words, she has 'retired' from the Scarecrow Invasion & Family Festival, and I think an expression of gratitude is in order.
But first, a confession. When I first met Marilyn Morris, I had only lived in Meaford a short time, and given that she was dressed in patchwork garb and a rather extravagantly ordained straw hat while carrying a kazoo in one hand, I might have thought she was off her rocker. Having moved here from a much larger city, I wondered if I might have stumbled upon one of those small town eccentrics we city folks hear about from time to time.
My initial suspicion was extremely short-lived (I would estimate 30 seconds), because once I got talking to her, I realized that the woman standing in front of me dressed like a scarecrow was one of the sweetest, most community-minded people I had ever encountered.
Marilyn Morris has a love for this community, and a respect for those who live within its borders like few others I have met. How else could she possibly round up hundreds of volunteers each and every year to build scarecrows, and decorate the town before staging the largest community event of the year? Quite simply, her energy, and her love of bringing the community together is infectious, and she seems to have a unique ability to bring out the best in everyone she encounters.
In the years since my first encounter with the Head Scarecrow, I have watched the Scarecrow Invasion & Family Festival continue to grow. I have stood out in the cold and drizzle snapping photos of the parade as hundreds, and sometimes thousands of bundled up and rain-protected onlookers take in the show before following the end of the parade down to the harbour for an evening of small town fun. Over the past ten years I have of course been reporting on a range of Scarecrow Invasion stories (only in Meaford does the local reporter have several thousand photos on their computer in files labelled "Scarecrows_2010", "Scarecrows_2011", and so on.
From a reporter's perspective you can't find a better person to interview than Marilyn (and not just because she can talk a lot and quickly fill an article with quotes alone), as she is always available, is always prepared, and she does her best in each and every interview to push the spotlight away from herself and onto that huge team of volunteers that has been built over the years.
Over the past decade Marilyn has also become a friend who has been very supportive of this paper, promoting us wherever she could. I have learned much from Marilyn over the years, not the least of which is that you make much more progress by bringing people together than you do by pushing them apart. She has also taught me just how much can be accomplished if your heart is in the right place, and you agree that it's okay to have a little fun.
Naturally, there is some sadness in seeing her step away from her role as head scarecrow, but while interviewing her for the story in this week's paper announcing her retirement, one thing was clear – the event will live on and continue to grow. Marilyn's retirement has been a couple of years in the planning, and she has ensured that the board and the team of volunteers are prepared to take the wheel and drive the Scarecrow Invasion & Family Festival into the future.
So to Marilyn Morris, Head Scarecrow, my friend, thank you for all that you have done in this community with not only the Scarecrow Invasion, but with many initiatives that you have been involved in over the years. Your dedication, your energy, and your vision has helped to make Meaford unique, and to make this community stronger.
I look forward to this year's Scarecrow Invasion & Family Festival as I do each year, and I look forward to seeing Marilyn take in the event as a spectator so that she can see the smiles and the magic of what she has helped build with the army of volunteers that she has helped inspire over the past 20 years.
+ 52
+ 3