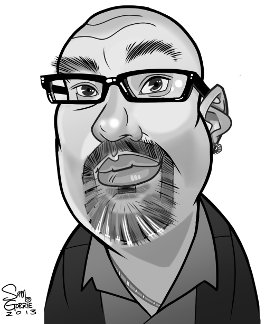 It was supposed to have been completed before the big Scarecrow Invasion and Apple Harvest Craft Show weekend, but after delays and setbacks this week work crews are still working on the rehabilitation of structure 030, more commonly known as Bakeshop Bridge, and they likely won't wrap up until the end of this month. As you might expect, Meaford motorists are not amused, nor should they be.
If you want to get a feel for the public's thoughts on local issues a good place to turn is social media, where many people freely vent their frustrations about a range of issues, and I've certainly seen much frustration expressed on social media sites like Facebook about the agonizingly long time it has been taking to complete the work on the bridge which, when operational, sees some 1,000 vehicle crossings per day.
'Bakeshop Bridge' is located near the entrance of Beautiful Joe Park on Edwin Street at the intersection of Miller Street. Since the project got underway in June, a detour route around the bridge has been established.
The work to be done on the bridge includes the rehabilitation of concrete barriers and girders, the replacement of expansion joints, repairs to the sidewalk that crosses the bridge, as well as waterproofing and resurfacing of the bridge deck.
While work on the bridge began in June, here we are four months later still following the detours around the bridge, which is part of a convenient route that helps many avoid the busyness of the downtown core. After work had noticeably ground to a halt in August, members of council and the public began asking why. The answer provided by the municipality informed the public that, "These delays include 7-10 rain days, as well as the replacement of an aluminum watermain hanger which required specialized fabrication that took over two weeks. Another delay was caused by missing thrust blocks behind the concrete abutments, which are now mandatory in any new construction and required engineering and fabrication that took over three weeks."
First, let's cast aside the mention of rain days. Any project like the Bakeshop Bridge project is bound to see some rain days: they are to be expected, and they certainly weren't the reason that work came to a halt for several weeks. So why the municipality included mention of rain days in their public statement about the work stoppage is beyond me.
The real issue would seem to be the unexpected need to fabricate watermain hangers, and to deal with an issue of missing thrust blocks behind the abutments. Why both of these issues cropped up as surprises are questions for the engineers and contractors, and I expect council will be requesting a full report that will outline how it happened.
On the one hand, any rehabilitation project, or even a home renovation project, has the potential to serve up some unexpected surprises. Who among us hasn't embarked on a carefully planned project only to find mid-way through that either through miscalculation, or by not doing enough homework, or simply due to the law of 'sometimes stuff happens', that the project requires a significant amount of additional work or materials? It does happen, but when we as a community are spending more than $450,000 on a bridge rehabilitation project we'd like to think that the high-priced experts would ensure that all of the bases are covered before embarking on the project.
Like all other municipalities, Meaford has many more bridge and road rehabilitation projects in its future, and there will no doubt be delays from time to time, but that doesn't mean that residents should be happy about it. They shouldn't, and they should expect their councillors to demand answers, and to attempt to avoid delays on future projects.
Personally, I don't tend to get too bothered over issues like the delays we've seen on the Bakeshop Bridge. There are other routes of course, and really what's an extra month in the grand scheme? That said, there are folks who rely on that bridge far more than I do, and there will be projects in the future which will have limited and potentially highly inconvenient alternate routes, so if people become frustrated and angry over delays with any project, I can't and don't blame them.
+ 68
+ 12