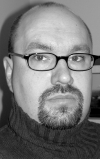 On Tuesday morning Meaford residents will wake up to a new council that will be installed in early December.
That new seven member council will feature at least four new members, and possibly five individuals will be taking a seat at the council table for the first time.
If you haven't voted yet, there is still time to deliver your ballot to the municipal office on Trowbridge Street. Ballots will be accepted at the municipal office until 8 pm on Monday October 25.
We have been witness to a fascinating yet strange election campaign in Meaford.
We've seen debate about not just the merits of, but the actual existence of the much touted "Five Year Plan".
We've seen a council candidate charged with assault the day after filing his nomination papers.
We've seen a hunt for the identity of an anonymous blogger who took aim at Mayoral candidate Francis Richardson and members of the municipal staff that resulted in a rush to pin the blame on a member of the McPherson campaign team based on questionable evidence, but ultimately ended up with council issuing public apologies to both the resident accused, and McPherson himself.
We have seen the odd heated exchange at a candidate meeting, and we have seen some bizarre platform ideas put forward by these candidates.
In spite of some of the craziness, what tends to be easily forgotten amidst the hype of the more spectacular stories is that we have also seen something special.
17 residents of Meaford have cared enough about our community to put their names forward and offer their service to us as our representatives on our municipal council.
Whether we agree with the views of a particular candidate, whether we like or dislike a candidate, we cannot forget that they have dedicated a lot of time, money and effort seeking election to a position that let's face it, isn't going to make them rich.
So why do these candidates run?
They run because they have a love for our community, and a desire to see our municipality move forward in a positive direction.
It is perfectly fair to express disagreement with how any of these candidates propose we move forward, it is more than acceptable to question their experience, competence, and abilities, but what should go hand in hand with voters and media exercising their right to ask these probing questions should be a healthy dose of respect.
I don't agree with the views of several of our candidates for council, but I respect all of them as people.
Thank you Jim McPherson, Francis Richardson, Harley Greenfield, Gerald Shortt, Lynda Stephens, Barb Clumpus, James McIntosh, Jason Whaley, Mike Poetker, Barbara Arnelien, Peter Vaughan, Wesley Cann, Deborah Young, Ray McHugh, Peter Bantock, John Malloy, and Carol Smith for caring enough about our community to put your names forward as candidates to represent us.
Your hard work and dedication to our community has not gone unnoticed, and I hope that the seven of you who succeed in gaining the trust of Meaford voters will do your best to ensure that you represent us well on our council.
+ 0
+ 0