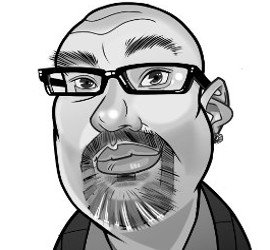 I had a conversation with a friend recently and he expressed frustration with the municipal tax increase for this year. He suggested to me that it is nonsense that members of council couldn't find areas to cut, and he suggested further that they should begin with their salaries.
"How much do you think they make?" I asked, a little shocked at the suggestion.
"Oh, I don't know how much they make," my friend responded.
"Take a guess," I prodded. "How much do you think the Mayor earns for example?"
"Probably around $100,000 per year," my friend replied.
"And a regular member of council?" I asked.
"I'd guess around $50,000, maybe $75,000?" my friend replied, clearly uncertain.
When I told him that a regular member of council earns just $25,000 per year, and that the mayor, until this year, earned a paltry amount of roughly $35,000, he was clearly shocked.
"The salaries for all seven members of council combined is roughly $180,000 per year," I advised my friend. "If you completely removed all of the cost for our councillors and paid them nothing it would be less than half a percentage point on the operating budget, and it might save you a whopping $3 per year."
"I had no idea," my friend told me, and many don't.
For some reason there is a belief among some that those who serve on municipal councils are somehow enriching themselves, and that is simply not the case. Many think the job of a municipal councillor is an easy way to collect a pay cheque, however some have an inflated idea of just how much we pay our members of council. I have heard some wild numbers over the years, and people are often shocked when they learn what our councillors are actually paid.
The reality is that you couldn't operate our arena on what we pay our seven members of council.
Given the conversation, and that we are in a municipal election year, I decided to dust off a slightly tongue in cheek advertisement I wrote a couple of years ago for council candidates.
Wanted:
Individuals to represent the interests of their neighbours for a term of four years.
Though technically a part-time position, carrying out the duties of the position will require 30 to 40 hours per week of your time.
Candidates should be prepared for a significant amount of reading – meeting agenda packages are typically hundreds of pages in length, however you will have five days to absorb and understand all of those hundreds of pages before each meeting.
Though you will be provided with an email account for communication with constituents, successful candidates should expect their home address, phone, mobile numbers, and personal email addresses to be spread widely throughout the community, and candidates should be expected to field angry calls from any of their communication options at all times of the day or night.
Candidates for the position should have a thick skin – you will be called many names, some of them quite nasty. You will also be accused of a range of conspiracies, and your personal integrity will be questioned at every turn.
Those successful in securing a position will be expected to attend untold numbers of community events and meetings, and no matter how boring the meeting or event, you must appear interested at all times.
Fortunately you will not have one boss, but instead you will have some 6,000 bosses; some of them have expertise in virtually everything, so you will receive regular lectures about how things should be done.
On top of your 6,000 bosses, you will also have any of your questionable decisions or other foibles reported in the local newspaper. Any mistakes or perceived mistakes that you make will be very public.
Compensation for the position is roughly $25,000 per year, and if you are extra special and upwardly mobile, our top position offers a salary of $45,000 (as of 2022), though for our top positions you should expect to have your character assassinated with even greater regularity.
Would you do it? Would you take on the job of councillor and all that it entails for $25,000 per year (or roughly 15 or 16 bucks per hour)? Would you put up with large numbers of phone calls, often from folks who are angry, and who will call you some pretty nasty names?
I often wonder how many excellent candidates never put their names on a ballot simply because they aren't willing to endure the frustrations and personal attacks for a measly $25,000 per year.
I frequently hear from readers, particularly around budget time, that budget cuts should begin with slashing council salaries. All seven members of Meaford's council combined cost ratepayers a whopping $178,000, barely a single percentage point of the overall operating budget. Where else than a small town council chamber will you find seven people willing to endure the realities of serving the public for a pittance?
We might not always agree with our elected members of council, nor should we be expected to, but let's stop suggesting that we are overpaying our councillors, because it simply isn't true.