By Stephen Vance, Staff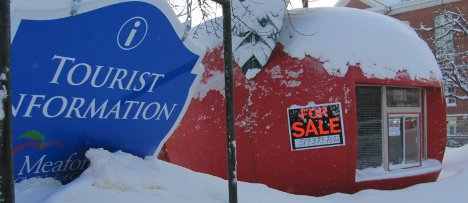 Meaford's iconic tourist information Apple could stay in its current location if the municipality is the successful bidder, though Meaford CAO Denyse Morrissey cautioned that there are several concerns that need to be answered before the municipality submits a bid.
"The Apple's legacy in Meaford is longstanding. To allow the Apple to continue to serve the community in its current location can be enhanced through ownership by the Municipality of Meaford," Morrissey told council in a memo included in the agenda for the February 18 meeting. However she cautioned that, "Without greater information and details regarding the physical condition and structural details it does create a very difficult and challenging situation for us to complete a responsible bid."
Whether anyone will get the chance to purchase the 40 year-old Apple is currently up in the air, as the president of Meaford's Chamber of Commerce – which owns the Apple – told council that same night, that after discussion between the Chamber board and its membership, there is a strong desire to have the Apple remain where it is.
"So that's what we're exploring now," said Chamber President Shirley Keaveney, who added that the Chamber has had several serious inquiries to purchase the Apple, however the feeling among Chamber board members is that they would prefer that the Chamber maintain control of the Apple.