Staff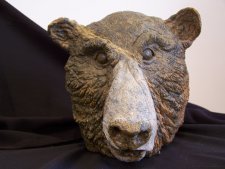 Currently on display in the Galleries at Meaford Hall are exquisite carvings depicting animals, faces and even trees. Made from materials such as antler, steatite and even mastodon tusk, they form an exhibit titled Legends of the Mi'kmaq.
These creations each come with their own back story – hinted at by titles such as 'The Man Who Would Live Forever' and 'The Dragon, The Witch and The Wolverine'.
On February 13 and 22 artist Mark Dorey will be guiding visitors through his exhibit during two free Meet the Artist events. A storyteller as well as an artist, he will share the legends that inspired his artworks.
The first event will take place on Thursday, February 13 at 7 pm before the Caverners take to the stage in the Opera House. The second event will be at 1 pm on Saturday, February 22. Parents take note: these dynamic pieces are a great way to introduce children to a new art form, and they are sure to be enthralled by the stories behind them.
Though the majority of the artwork is for sale, visiting the galleries at Meaford Hall is completely free. They can be accessed any time the building is open. Legends of the Mi'kmaq is on display until March 1.
For more information on these and other Meaford Hall events you can visit their website to buy online at www.meafordhall.ca, call 1.877.538.0463 or drop by the Box Office.