Staff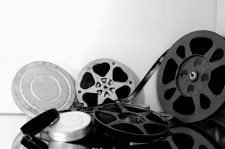 If you're looking for great entertainment and a way to stay warm this winter, Meaford Hall presents the Thursday Flicks movie series every other Thursday. Show times are at 4pm and 7pm and each movie is only $10.
Upcoming films in the series:
Blue Jasmine – Thursday, February 6
After everything in her life falls to pieces, including her marriage to wealthy businessman Hal (Alec Baldwin), elegant New York socialite Jasmine (Cate Blanchett) moves into her sister Ginger's (Sally Hawkins) modest apartment in San Francisco to try to pull herself back together again.
All Is Lost – Thursday, February 20
Academy Award winner Robert Redford stars in All Is Lost, an open-water thriller about one man's battle for survival against the elements after his sailboat is destroyed at sea. Robert Redford delivers a masterful performance in the gripping sea adventure.
Parkland – Thursday, March 6
November 22, 1963. The day President John F. Kennedy was assassinated. It's also the day that a handful of ordinary individuals were thrust into extraordinary circumstances. Parkland recounts the tragic day, using the perspectives from those who witnessed it firsthand.
Le Week-End – Thursday, March 20
Le Week-End sees Nick (Jim Broadbent) and Meg Burrows (Lindsay Duncan) return to Paris, the city of their honeymoon, to celebrate their 30th wedding anniversary. Designed as a weekend to rediscover some romance in their long-lived marriage, we follow the couple as long-established tensions in their marriage break out in humorous and often painful ways
Burt's Buzz – Thursday, April 3
Director Jody Shapiro ventures into the backwoods of Maine to find the reclusive Burt Shavitz, founder and (bearded) face of the all-natural personal care brand Burt's Bees, in this wry, thoughtful and intimate portrait of a highly idiosyncratic pioneer. From Burt's early years as a gifted photo journalist, to his solitary life as a beekeeper, and then status as a global brand ambassador, the film is a fascinating study of one man's ability to remain true to himself despite the pressures of a larger, influential world around him.
Unfinished Song – Thursday, April 17
Unfinished Song is the funny and uplifting story of Arthur (Terence Stamp), a curmudgeon old soul perfectly content with sticking to his dull daily routine until his beloved wife (Vanessa Redgrave) introduces him to a spirited local singing group led by the youthful and charming Elizabeth (Gemma Arterton). This unexpected friendship and his discovery of music revitalizes Arthur's passion for new adventures and shows us all life should be celebrated at any age.
For more information on these and other Meaford Hall events follow you can visit their website to buy online at www.meafordhall.ca , call 1.877.538.0463 or drop the Box Office.